Vinyl Flooring in Belleville, IL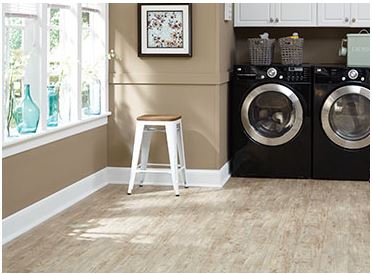 Flooring is one of the first things people notice when they step inside your home. If you're tired of the same old look, you might be tempted to undergo a comprehensive remodeling project. However, you can give you space an astounding update by simply changing what's underfoot. When you are ready to revamp your space with new flooring that's built to last and performs as well as it looks, choose vinyl flooring in Belleville, IL.
Are you searching for a stylish, durable flooring material that's easy to maintain? Vinyl is a unique flooring option that offers homeowners a stress-free living experience. Due to its unique composition, vinyl easily resists most scuffs and scrapes. It's manufactured from synthetic polymers, making it very resilient flooring to heavy foot traffic. This means that homeowners with children and pets can take comfort knowing that little feet and paws won't easily stain its surface.
Vinyl flooring is also designed for longevity and ease of maintenance in mind. No matter what type of vinyl flooring you prefer, you can rest assured that your new flooring choice will be strong and simple to care for. As it is a non-porous material; water, dirt, and grime don't seep into vinyl flooring, so regular sweeping and mopping is all that's required to clean your selection.
The overall ease of maintenance of vinyl flooring drastically reduces the time it takes to handle your interior cleaning needs. By spending less time cleaning up messes and maintaining your flooring, you'll have more time to take care of what matters most to you. Simplify your flooring maintenance routine by choosing one of our many exceptional options. Ask the friendly and professional sales team to help you choose a vinyl sheet, vinyl tile, or vinyl plank flooring selection that makes your space stand out for all the right reasons.
Choose from a Variety of Vinyl Flooring Options
As a homeowner, it's in your best interest to ensure you are making sound property investments. When you wish to improve your flooring, vinyl is one of the most popular materials due to its ultimate adaptability, cost-effectiveness, and ease of installation. Our extensive vinyl collection offers materials that are extremely durable. Our vinyl tile and vinyl plank flooring are not only easy underfoot, they also help reduce noise in an active household. Come by today to peruse our stylish collection of cost-effective vinyl sheet flooring. Our flooring specialists are happy to guide you every step of the way—from selection to vinyl flooring installation.
Vinyl Sheet Flooring: Easy-to-install, this product is the perfect choice for homeowners searching for a durable material on a budget. Vinyl sheet flooring comes in rolls, making it easy for our contractors to measure, cut, and install seamless pieces in any room in your home. Once your vinyl sheet flooring is down, it's virtually waterproof.
We have on display Sheet Vinyl collections from Tarkett, Congoleum, Armstrong, Mannington and more.
Vinyl Tile Flooring: This flooring option is a popular choice for many families that prefer a high-end look in their homes without the cost. Each piece is etched by advanced machinery to mimic various designs. Fabricated using 3D-printed, high-resolution photographs on heavy-duty tiles; our vinyl tile flooring features natural colors and textures that mimic desirable materials like stone, including marble, slate, and other popular varieties. Vinyl tile looks good in any room in your home; however, we recommend it for kitchens and bathrooms where its waterproofing capabilities will shine most.
In addition to the Downs H2O collections and PURstone we also carry CoreTec Tile, Duraceramic, Alterna, Serenbe Novalis, Baroque (stone look) and more.
Vinyl Plank Flooring: If you love the look and feel of hardwood, but not the price tag, vinyl plank flooring is the perfect compromise. Vinyl plank imitates the appearance and texture of true hardwood; however, it never needs polishing or refinishing. And, this flooring is moisture, stain, and scratch resistant. Enjoy the natural beauty of hardwood without any of the upkeep. In addition to Downs H2O collections we also carry Novocore, FirmFit, Acrylx, Wicander's Hydrocork, Baroque and more, including CoreTec planks
Let Us Handle Your Vinyl Flooring Installation
Once you and your family have chosen a vinyl product that suits your budget and your tastes, our team will carefully consider how you want your purchase installed. Adding new flooring can be a tricky and time-consuming process, and without the proper tools and experience, it can be difficult to know where to begin. Thankfully, our team offers professional vinyl flooring installation services to ensure our clients' selections are laid perfectly into place.
Let our skilled installation crew ensure your new vinyl floors look and perform according to our very high standards. Each piece is cut and shaped precisely to fit in rooms of any shape or size. Whether you've chosen sheet, tile, or vinyl plank flooring, our contractors are sure to exercise tried-and-true installation methods to leave you with a beautiful new home addition. When you put our locally preferred contractors to work for you, rest assured that we won't consider your project finished until we've earned your total satisfaction.
Your dream for your home begins with a Collins floor. Make your home simply beautiful!

Contact our specialists for more information about our vinyl flooring products. We proudly serve homeowners in the communities of Swansea, IL and Belleville, Fairview Heights, O'Fallon, Shiloh, Mascoutah, Scott Air Force Base, Freeburg, Millstadt, Caseyville, Collinsville, Maryville, Glen Carbon, Smithton, Waterloo, and the surrounding Metro East community.