Vinyl Flooring in Swansea, IL
Are you searching for a stylish, durable flooring material where little feet and paws won't easily stain its surface?
The overall ease of maintenance of vinyl flooring drastically reduces the time it takes to handle your interior cleaning needs. By spending less time cleaning up messes and maintaining your flooring, you'll have more time for what matters most to you. Our flooring specialists are happy to guide you every step of the way—from selection to vinyl flooring installation. Choose from a variety of vinyl options.
Vinyl Plank Flooring
Downs LIFE Luxury vinyl solidcore is Backed by our 4 Star Warranty
5MM thick with an IXPE backing 20 mil wear layer
7" wide, multiple lengths of 24",48"and 60" Embossed in register
There are 4 unique collections of 5 colors each.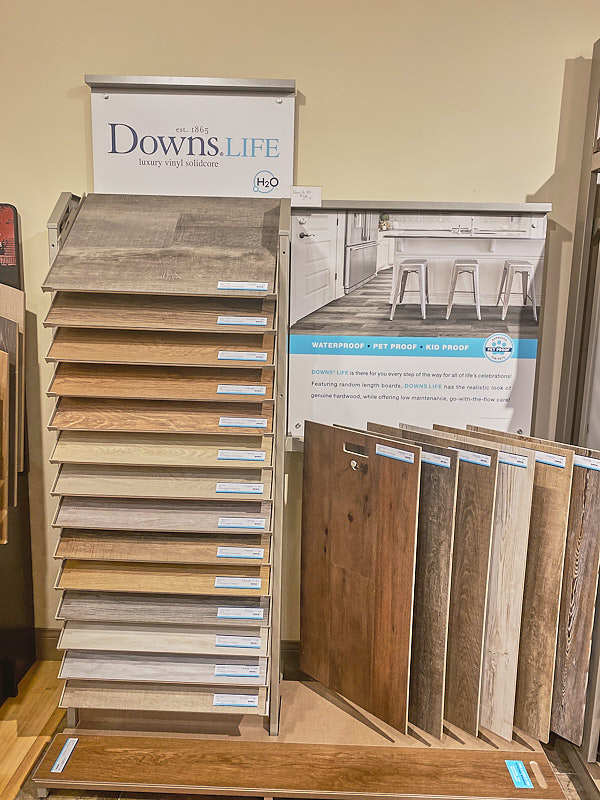 Downs® H2O
luxury vinyl tile.
Ultra-realistic looks
– natural wood looks so real
that you won't believe they're vinyl. The perfect choice
for rooms where other surfaces won't stand up –
including kitchens and baths.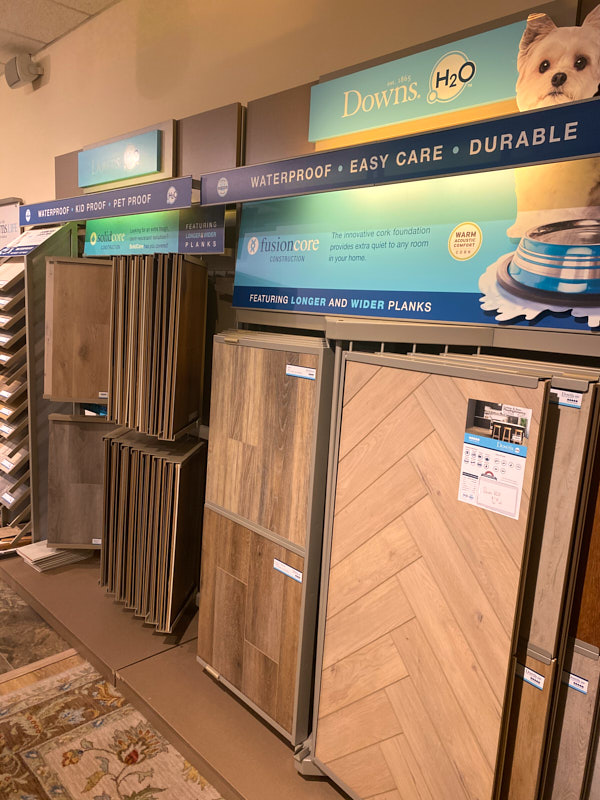 CORE ELEMENTS LVT collections include great wood designs
with widths from 5" to 9" and mixed widths. The stone visuals
expand the design options and all these floating luxury vinyl floors
are perfect for any room in your home or office.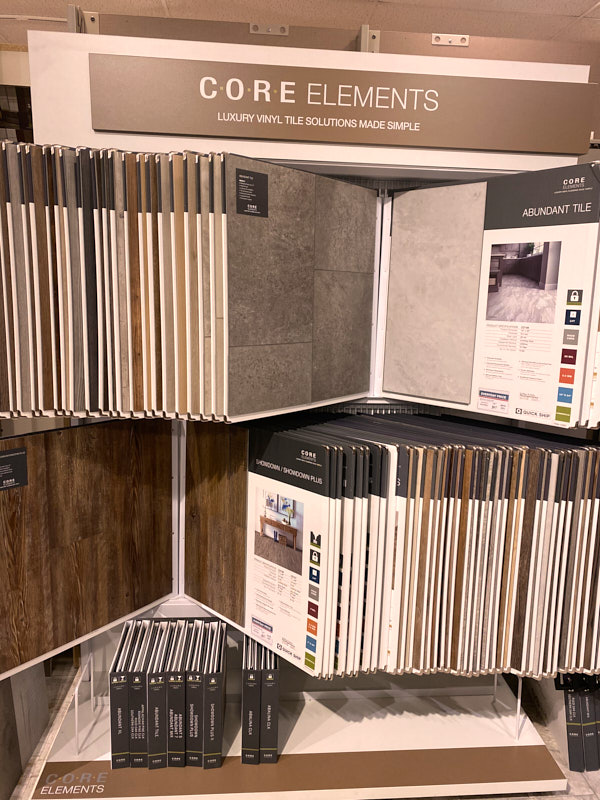 Wood looks and stone looks. Come in and see the selecions!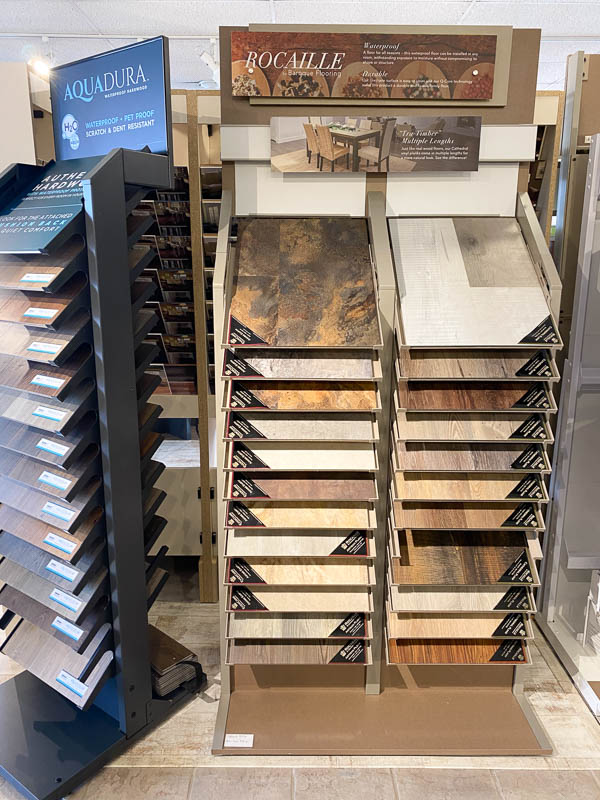 Planks and Tile - wood looks and tile looks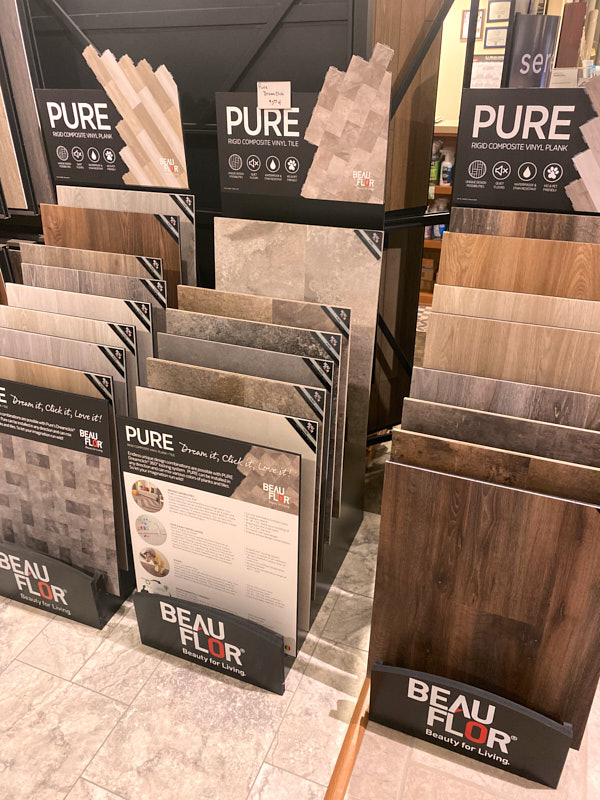 Casabella Stateside - New display!
One of the Collections actually made in the USA!!!!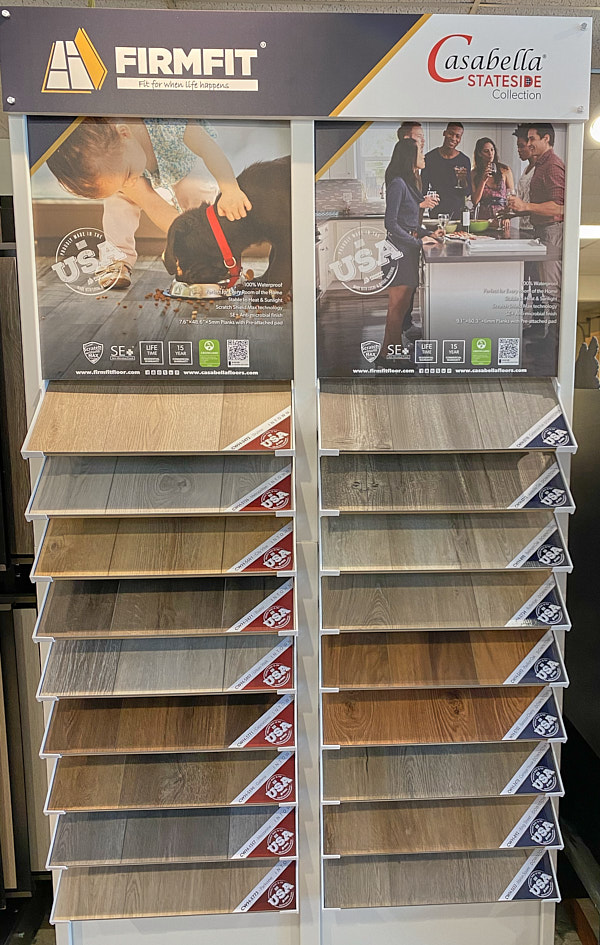 Casabella LVT - a New display of some beautiful choices!
Come in to see all the styles!!!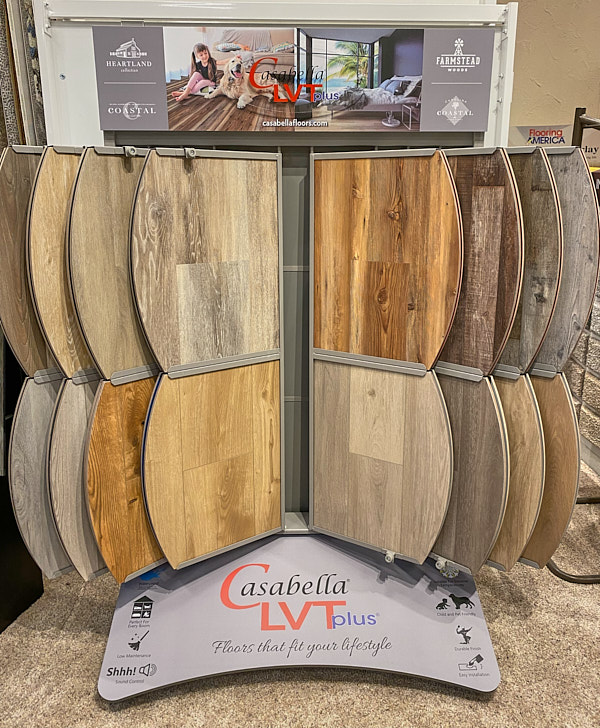 Triversa Prime is constructed with a phthalate-free
stone polymer composite (SPC) solid core that provides, strength,
durability and superior indentation resistance. Being completely waterproof
and able to withstand wide temperature changes, it is the perfect solution
for any area of your home. The wide selection of outstanding wood, stone
and tile designs feature large scale formats, enhanced edge treatments,
mixed widths and lengths, and much more.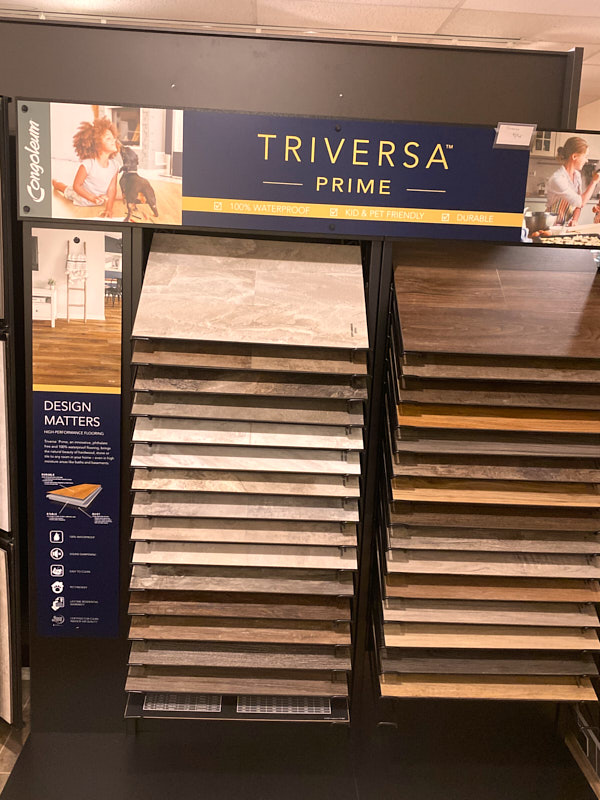 Casabella LVTplus Waterproof Flooring is child and pet friendly
and is perfect for every room. Collections include:
ScubaSeal, ScubaSeal Tile, FirmFit XXL,
Novocore Premium, Firm Fit and Firm Fit Contract.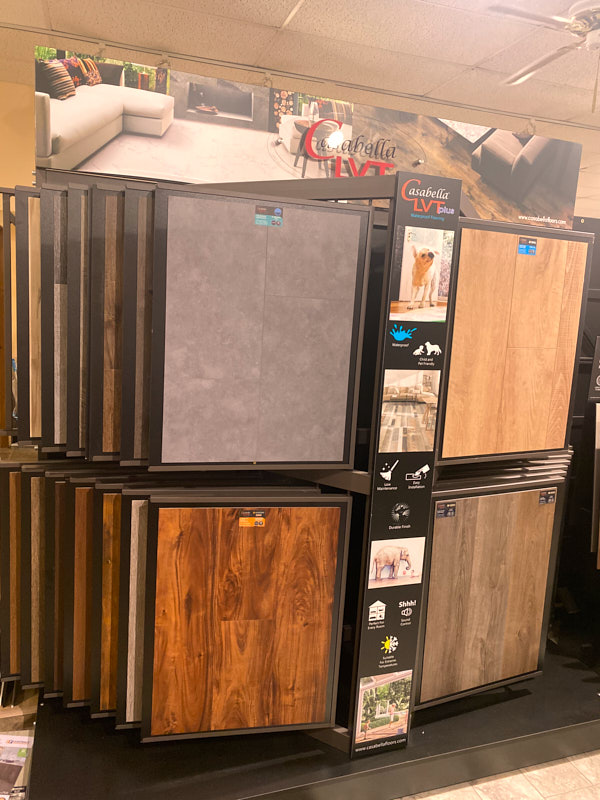 Solid Tech Plus - Thatcher and Franklin
Made in the USA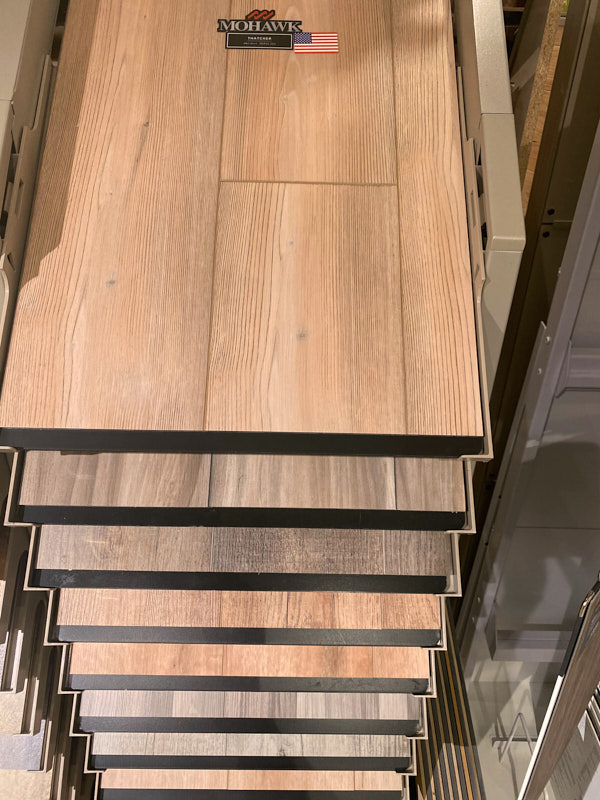 from Raskin. Acrylx is durable for the home and strong
enough for most commercial applications.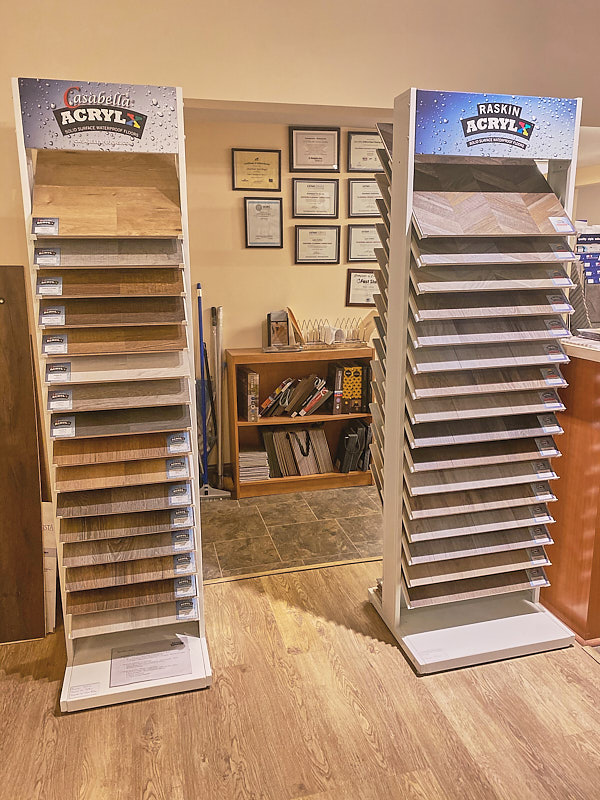 CoreTec. Luxury vinyl plank and luxury vinyl tile in a variety of
styles and colors. Design choices to fit any decorating theme from traditional to farmhouse.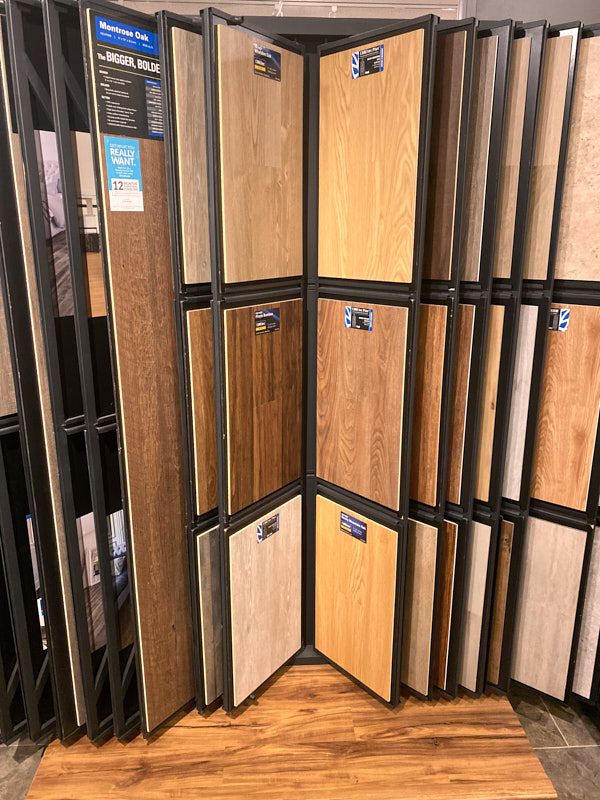 CoreTec Stone is a tile that offers an unprecedented
combination of design, simple installation, livability and durability.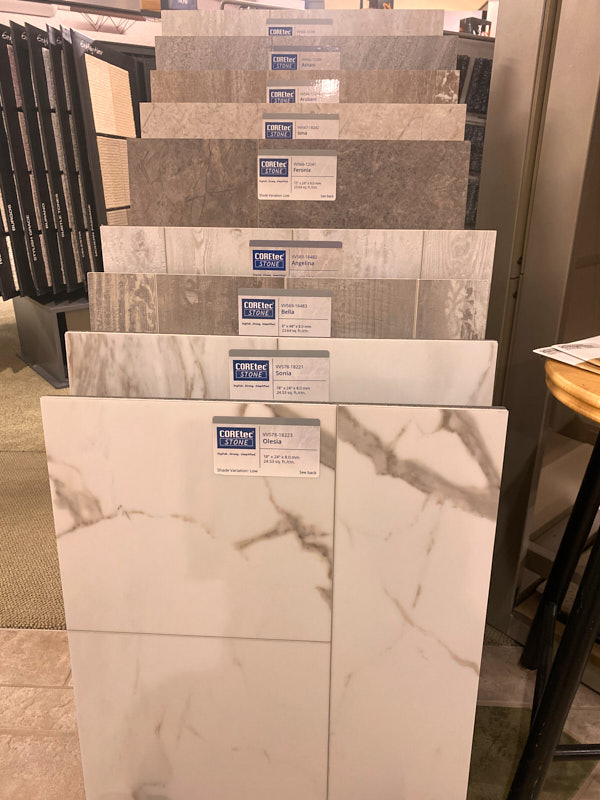 NovaFloor: serenbe, Lyndon, maybree, dansbee
Explore stenciled concretes, crackled woods,
classic marbles, cottage pines and urban oaks.
Serenbe is what you select for your space to express what
is magically, naturally and uniquely you.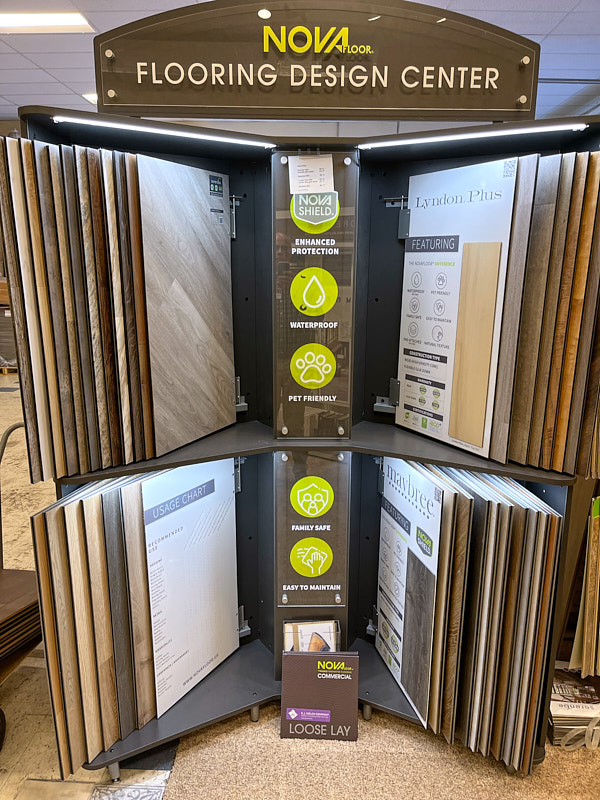 Alterna by Armstrong Engineered stone flooring
is incredibly beautiful and durable. Its comfortable surface makes
Alterna warmer to the touch, kinder to your feet, and easier to care
for in any room of your home.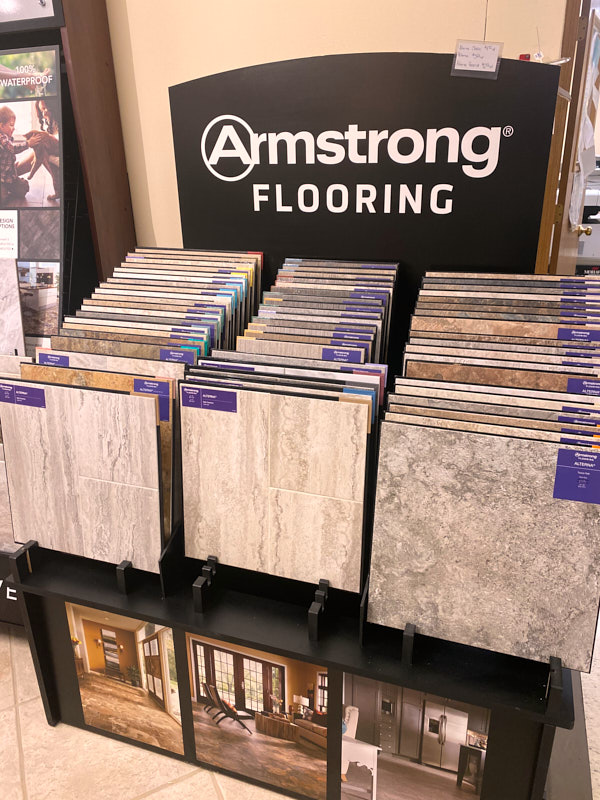 Sheet Vinyl Flooring
Easy-to-install, this product is the perfect choice for homeowners searching for a durable material on a budget. Vinyl sheet flooring comes in basic patterns or designer styles to compliment your home. Come into our showroom and check out samples to take home
and see with your lighting and decor to make your final selections.
Mannington Luxury Vinyl Sheet
Award-winning. Stylish. Budget-Friendly. Durable. With classic shapes, bold accents and authentic wood looks, our vinyl sheet flooring has unique designs and styles that never go out of fashion. The pioneer of waterproof flooring, our Luxury Vinyl Sheet and Resilient flooring are waterproof, kid and pet friendly and easy to maintain.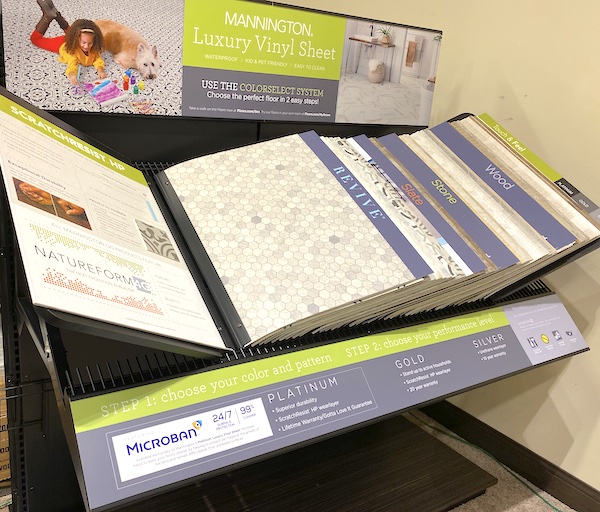 BeauFlor Blacktex A textile backing that enhances underfoot
comfort, thermal insulation, and sound absorbency and increased
resistance to scuffs and stains, make luxury vinyl flooring a great
solution for all types of lifestyles.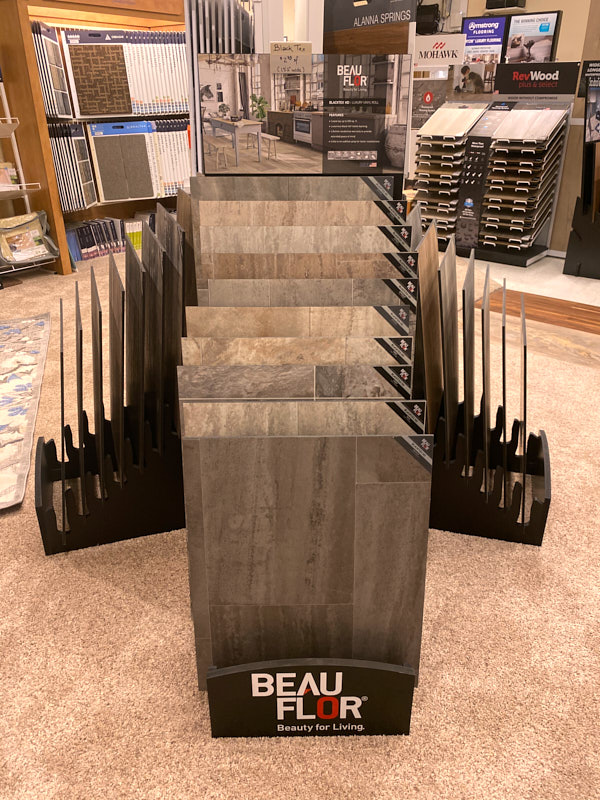 Air Step by Congoleum
Contains Scotchgard Protector™ which repels dirt and mess for easy cleaning and stain release
Finished product proudly Made in the USA
Contributes to good indoor air quality as certified by Floor Score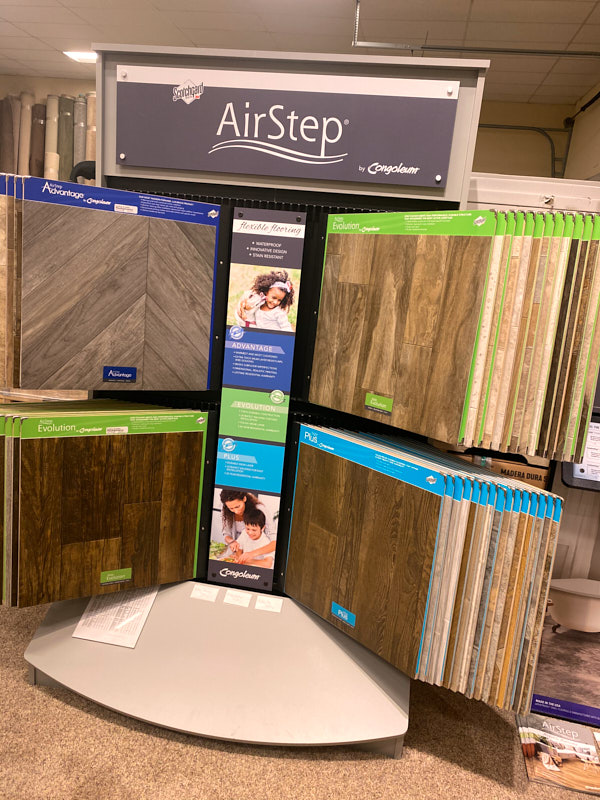 Tarkett Vinyl Sheet Flooring offers a durable,
practical and affordable option for any room of the house.
Plus, it is certified Asthma & Allergy Friendly by the Asthma &
Allergy Foundation of America, making it beautiful and healthy
for those you love most.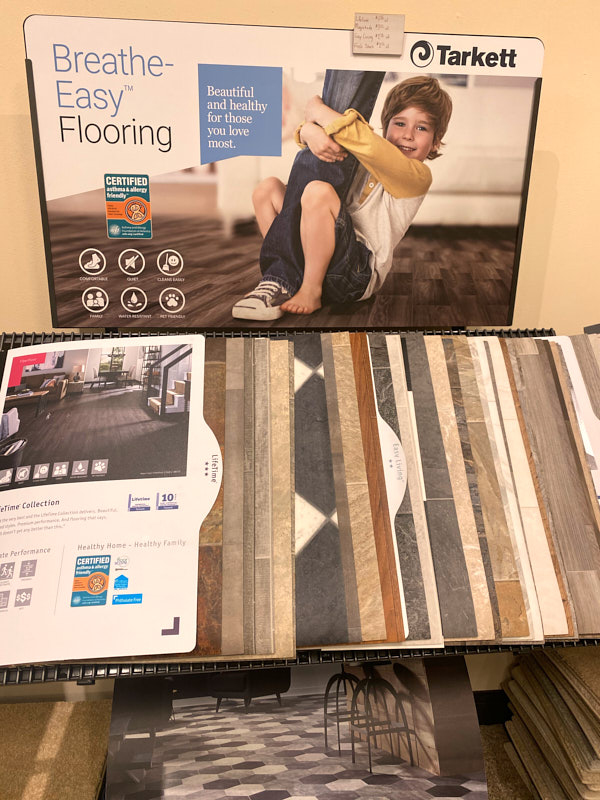 Karndean - great designs!!!!
In addition to the Knight Tile display we have books
of all the available styles. Come in and take a look!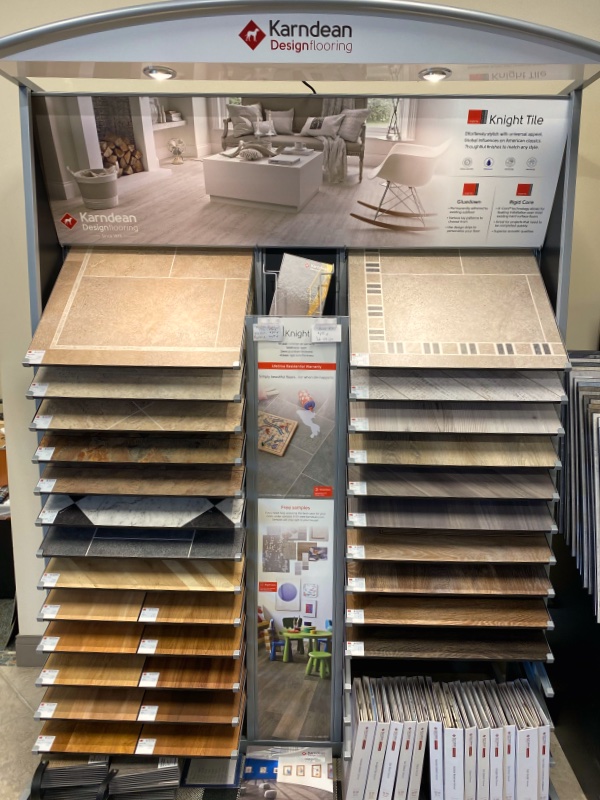 Let Us Handle Your Vinyl Flooring Installation
Once you and your family have chosen a vinyl product that suits your budget and your tastes, our team will carefully consider how you want your purchase installed. Adding new flooring can be a tricky and time-consuming process, and without the proper tools and experience, it can be difficult to know where to begin. Thankfully, our team offers professional vinyl flooring installation services to ensure our clients' selections are laid perfectly into place.
Let our skilled installation crew ensure your new vinyl floors look and perform according to our very high standards. Each piece is cut and shaped precisely to fit in rooms of any shape or size. Whether you've chosen sheet, tile, or vinyl plank flooring, our contractors are sure follow manufacturers installation specifications to leave you with a beautiful new home addition. When you put our locally preferred contractors to work for you, rest assured that we won't consider your project finished until we've earned your total satisfaction.
Your dream for your home begins with a Collins floor. Make your home simply beautiful!
Contact our specialists for more information about our vinyl flooring products. We proudly serve homeowners in the communities of Swansea, IL and Belleville, Fairview Heights, O'Fallon, Shiloh, Mascoutah, Scott Air Force Base, Freeburg, Millstadt, Caseyville, Collinsville, Maryville, Glen Carbon, Smithton, Waterloo, and the surrounding Metro East community.