---
---
Collins & Sons Max Care Professional Cleaning Systems
Carpet cleaning
Upholstery cleaning
Area rug cleaning
Tile and grout cleaning (not polished or natural stone)
Residential and Commercial cleaning
Collins and Sons Max Care uses a hot water extraction method to clean your carpet. We carry softened water on board the truck and take away your dirt, leaving you with clean and fresh carpet! Mandated by manufacturer warrantees, this technology will thoroughly clean and re-set the carpet's "memory" to refresh your carpet and also improve the indoor air quality. We also clean tile & grout, upholstery, and area rugs for your home or office spaces. MaxCare's technicians are extensively trained certified professionals who are courteous and truly care about their work. Our technologies, equipment, processes and carpet cleaning solutions are the best in the cleaning industry today. We are experts in both natural and synthetic fiber carpets including wool and silk. Pet enzyme treatment, deodorizers and 3M ScotchGuardTM is available. Max Deep Clean is a non-toxic, pet friendly clean you'll never forget.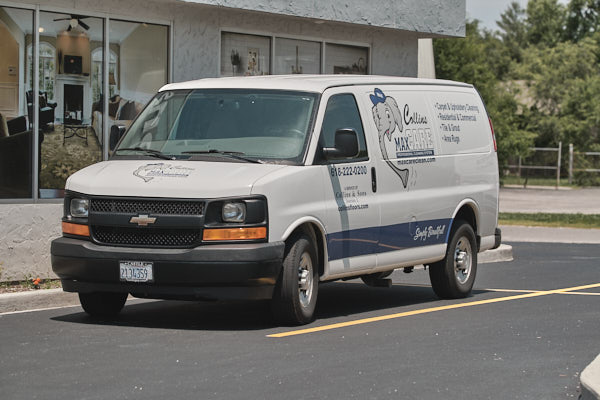 What to expect on the cleaning day
On the day your cleaning is done, we will send a professionally trained and certified (I.I.C.R.C.) crew. They will begin by inspecting the area and start with vacuuming the carpet, applying the soil release solution along with anything needed for stains, and clean using a truck mounted, hot water extraction system. (The crew can help you move furniture as an added service for a small charge but please remove your breakables yourself.) After the area is cleaned, the furniture can be replaced on protective pads. It's best to stay off the carpet as much as possible until it is dry, especially for the first four hours to prevent crushing of the pile and re-soiling. The best thing you can do for your carpet is to vacuum it regularly, have walk-off mats at each entrance and have it cleaned by MaxCare at least once a year. We clean carpets, upholstery, ceramic and grout, in both residential and commercial locations. Pick up and delivery service for your area rugs to be cleaned using MaxCare Professional Cleaning Systems is a great solution to keep your rugs looking great.
You are invited to join our loyalty program for MaxCare for discounts on all cleaning services. Our loyalty program puts you on a list for a call to remind you that it's time to have your carpeting cleaned.
(enrolling in the program is free)
* Gold level is 20% off and you will receive a call every 12 months
* Silver level is 15% off and you will receive a call every 18 months
* Bronze level is 10% off and you will receive a call every 24 months
Call Jvon at 618-222-0200 and schedule your cleaning and enroll in the loyalty program.