Carpeting in Belleville, IL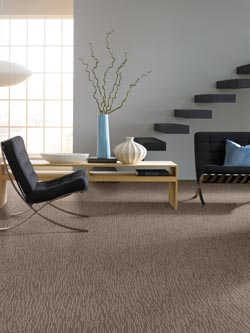 All flooring needs to be replaced at some point, and when that time comes, we can offer plenty of reasons for you to switch to our carpeting in Belleville, IL. Whether you are trying to make your new house feel more like home, need softer floors because you're growing your family, or simply want to update your space, we can meet your needs. Our local business has the products and services to suit your personal style and satisfy your requirements. Just come on in and let us know what you're looking for.
Not every room is the same, which is why our showroom features infinite carpet options, whether you're looking for a certain unique color or a special type of material. During your initial free consultation, we'll help you work through carpeting elements that are important to you and take measurements too. Our experts act as your guide as you consider sizing and affordability. For example, you can choose from high-quality carpet flooring that's constructed using the following types of yarn fibers:
Why Our Carpet Store Stands Out
At Collins Flooring America, we know the best way to ensure our customers' complete satisfaction is to get them exactly what they need and nothing less. We do this by providing an abundance of options regarding patterns, solid colors, tonals, flecks, and Berber carpet. However, rest assured we don't just leave you to explore our vast inventory on your own. If you need help narrowing it down to only the items that match your lifestyle, our sales associates are always here to help.
When you see something you like, feel free to take samples home to see how they look under the lighting. Our professionals take care to keep our showroom updated so it reflects current styles. With more than 72 years in the flooring business and 3 generations of ownership, you can bet we know how to match our clients with their ideal floors in an easy and convenient manner. We wrap up our services with professional carpet installation work that offers you the most durable and beautiful end results possible.
All Five-Star and Four-Star residential carpets carry a Confidence Plus Warranty. The timeframe of this warranty is 90 days after installation for Five-Star materials and 60 days after for Four-Star materials, plus 30 days of living with your new floor. If after that time you wish to change your carpet for any reason, we replace it with another style or color of equal or lesser value.
Should you wish to replace the carpet with an upgrade, you may do so by paying the difference in price. This is a one-time "design oops" replacement so you can rest easier with your choice. See one of our team members for details.
Superior Styles from Top Brands
At our carpet store, we believe in selling only the top flooring products to our customers—ones that last for years and match their requirements and preferences. That's why we offer top-quality, industry-leading brands and explain the differences between them and the benefits of each. For instance, if you're looking for something that's spill- or stain-resistant, we recommend Resista®, Innovia Touch Xtreme Clean™, or Stainmaster®.
When you need a floor that can stand up to heavy foot traffic from a large household, we'll direct you toward Gibraltar™, Hearth & Home™, or Tigressá®. For fun design options, take a look at Design Distinctions. There's something for everyone in our showroom, including trusted names like:
Improving Your Living Space with Our Carpet Installation
Count on our contractors to ensure your new carpet looks great and lasts for years. We draw on decades of experience to ensure that each inch of carpeting is installed properly. Plus, we back up our services with a Lifetime Installation Guarantee for your security and peace of mind. This states that if the carpets you purchase from us ever have an installation-related issue, we'll fix it at no cost to you.
Combined with our other guarantees and warranties, it's clear there's really no better place to turn when you want high-caliber carpet you can count on. Come to us for materials from the following brands:
Beaulieu
Bedford Mills
Core Elements
Design Distinctions
Downs
Gibraltar
Hearth & Home
HomeCraft
Innovia
Mohawk
Resista
Shaw
Spotlight Values
Stainmaster
Tigressa
Our company is here not just to sell you carpet, but also to assist you in keeping it in the shape we sold it to you in. We employ certified cleaning professionals to use the best processes, equipment, technologies, and solutions the industry has to offer. They know natural and synthetic fiber carpets and use non-toxic and pet-friendly methods for each of them. Routine cleanings from us improve your indoor air quality and help your floor last longer. Ask about joining our loyalty program to receive discounts and reminder calls when it's time to clean.
BND Reader's Choice Awards voted us the #1 Carpet Cleaning Company, so you know we're well-versed in carpet flooring and how to maintain it. Call us today to save time and energy.

Contact us for the finest flooring around. We welcome residents of Belleville, Maryville, Swansea, Fairview Heights, and Scott Air Force Base, Illinois, and the surrounding neighborhoods.