Your beautiful hard surface flooring has set the stage for a beautiful area rug. Collins & Sons is where you can find the perfect rug to add a pop of color to complete your design or put softness under foot in just the right places. We have a selection of rugs on display for immediate purchase. We also have many samples of more rugs available by order from Nourison, Karastan, Oriental Weavers, Milliken and more. Seeing the colors and touching the samples in our local showroom helps in determining the rug that is a great choice for you. Rugs are available in heirloom quality New Zealand wool and silk as well as other fibers including: standard wool, polyester, triexta, polypropelene, jute, denim and even real hide. We have some area rugs that are indoor/outdoor as well that can be hosed off to clean. Whatever your dream is for your area rug, we can help you make it happen.
Come in and see and feel the rugs on display (colors in person are always better than pictures!!) Custom sizes can be made to order from any carpet in the showroom as well.

Nourison Dreamy Shag DRS09 Ivory Beige
5'3" x 7'3" $317.50
Create a chic foundation for your dcor without sacrificing comfort with this modern shag rug from the Dreamy Shag Collection. Like natural stone, the abstract design adds a layer of depth to your surroundings. Made from polyester in a dense, 1.25 pile that feels amazingly soft underfoot.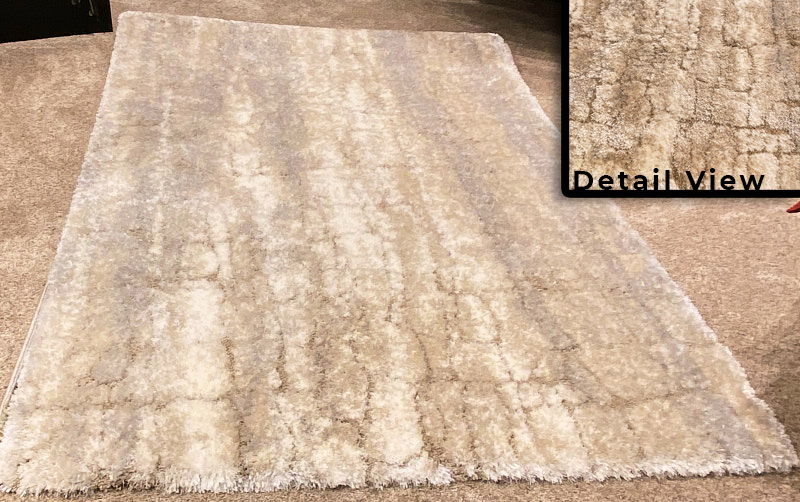 Nourison Sahar SHR02 Ivory 5'3" x 7'8" $425
Bring traditional style to your space with this Persian rug from the Sahar Collection. It features a detailed medallion pattern on an ivory ground, framed by a classic border and distressed finish that adds vintage flair. Machine-made from durable, easy-clean polyester fibers that will easily enhance your living room, dining room, bedroom, kitchen, or hallway.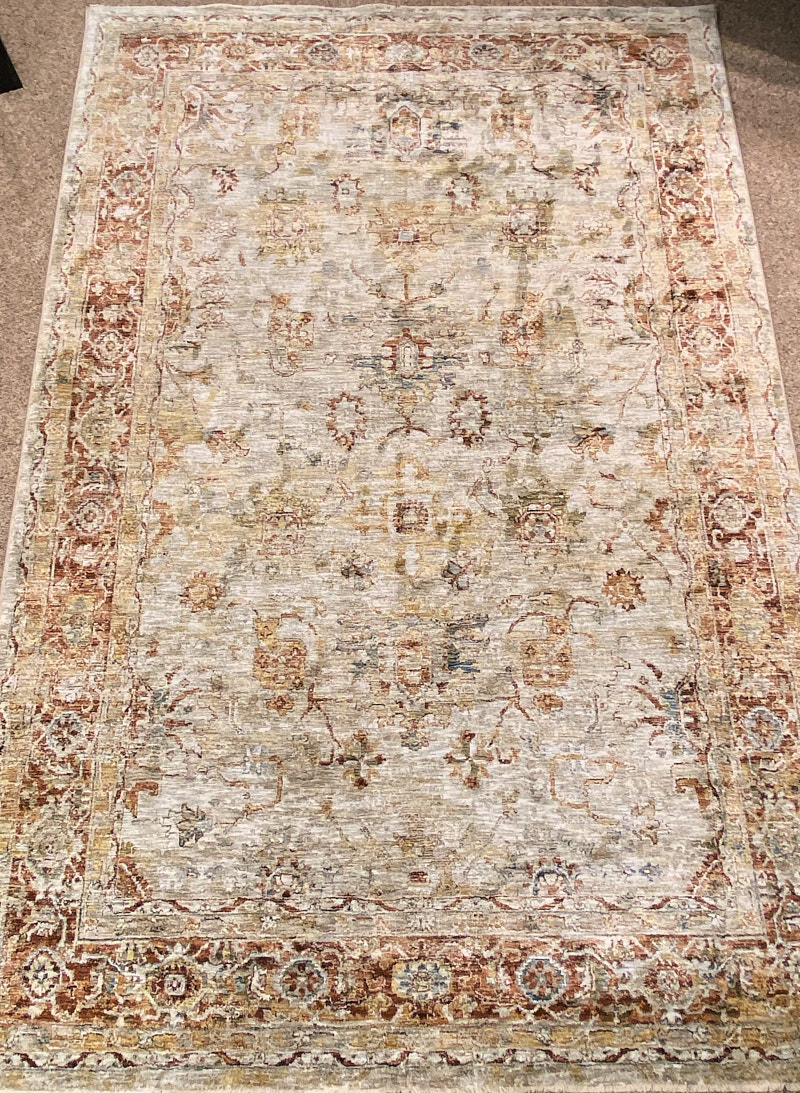 Nourison Waverly Sun & Shade SND10 Graphite
5'3" x 7'5" $150
Add a dash of cafe society to your decor with this stylish, modern destination inspired Pattern Destinations Waverly rug by Nourison. Set on a cool graphite background with a beautiful typeset pattern made up of the world's most famous fashion destinations, this rug will add an instant air of class and sophistication to any space. (Indoor/Outdoor)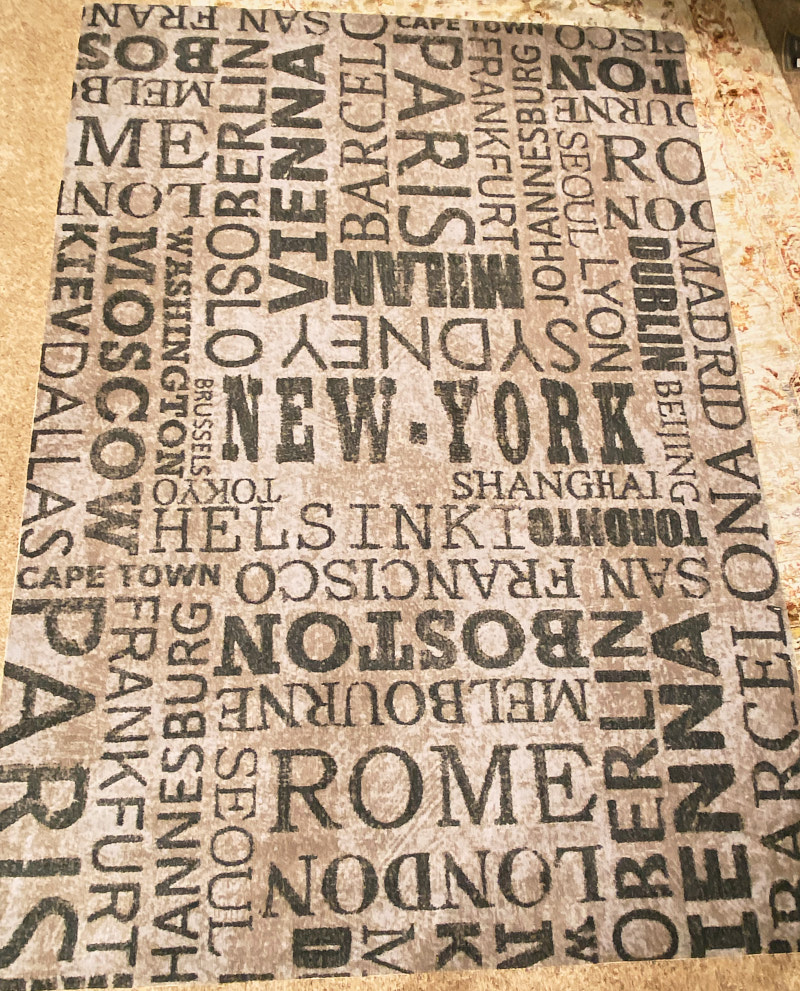 Nourison Rustic Textures RUS09 Iv/LtBlue
5'3" x 7'3" $275
This Rustic Textures Collection rug uses its carved pile to accent a wonderfully ornate Persian runner rug design in an ivory-on-ivory pattern, with traces of slate blue and grey bringing the bordered pattern into clearer view. This vintage hallway rug brings an understated elegance to any space, with easy-care fibers for years of enjoyment.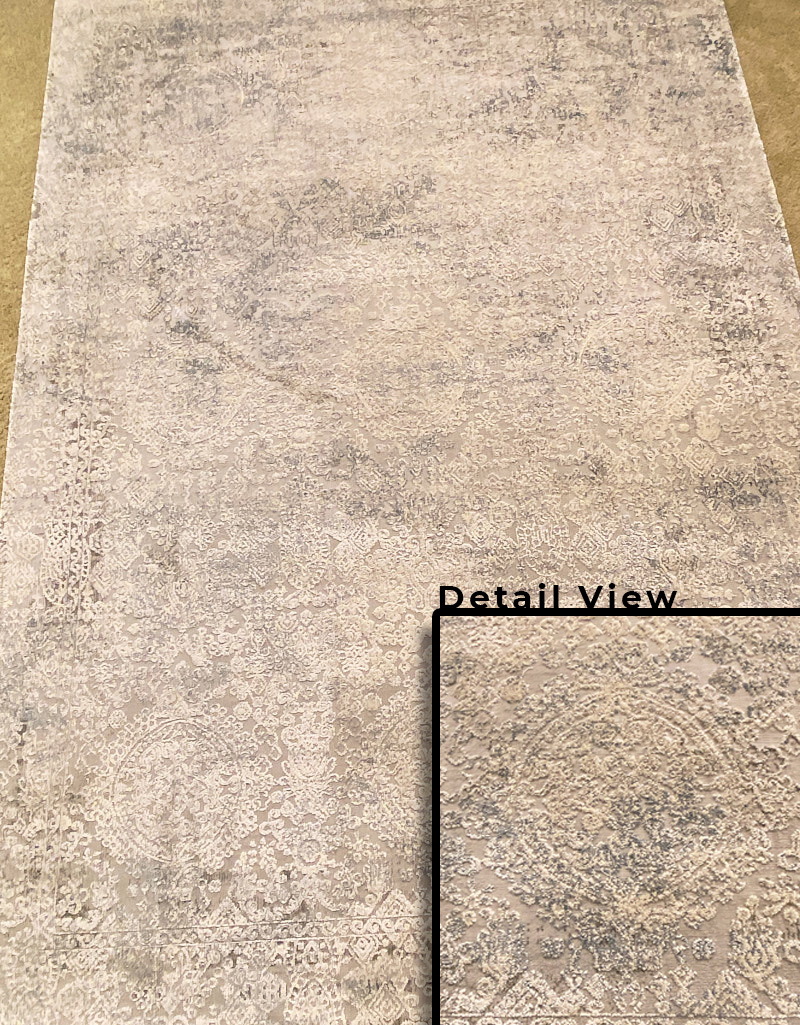 Nourison Sahr SHR01 Green 5'3" x 7'8" $425
With its ornate design in green with neutral details and distressed finish, this vintage rug from the Sahar Collection adds a layer of traditional style and soft comfort to your space. Place this Persian rug in your living room, dining room, bedroom, or hallway for a warm and welcoming accent. Machine-made from polyester fibers that are easy to clean and maintain.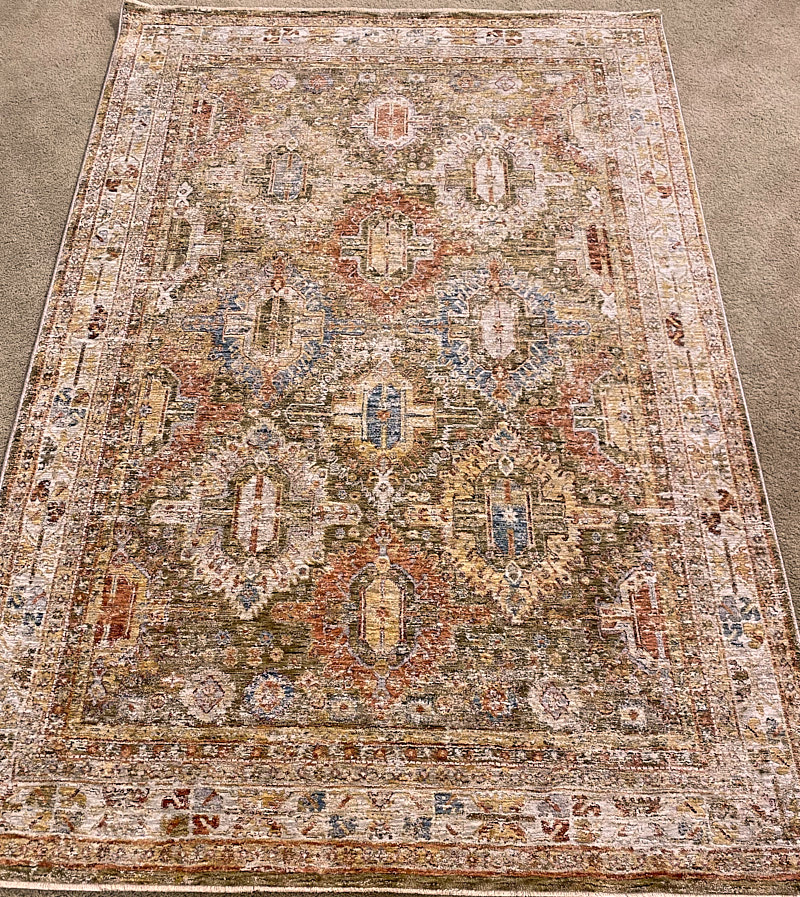 Nourison American Manor AMR03 Ivory/Mocha
5'3" x 7'3" $372.50
A splash of mocha brown tinged with taupe creates swirls of painterly pattern that stands out on its neutral ivory background.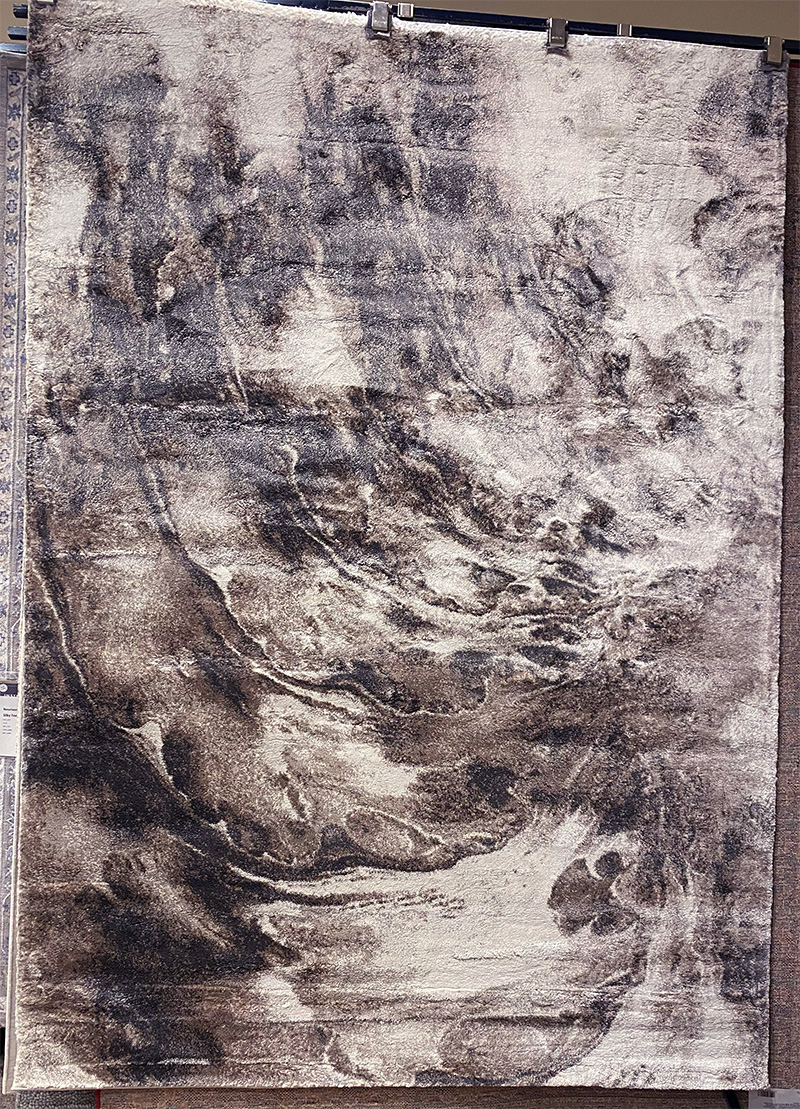 Nourison Vibrant VIB08 Ivory 5' x 7'6" $300
A graceful Old World blossom-and-bloom design gets a contemporary makeover, in an elegant cream field with repeating multicolor patterns. Hand tufted into a 100% wool loop pile for an exceptional look and feel, this Vibrant area rug from Nourison engages from every angle.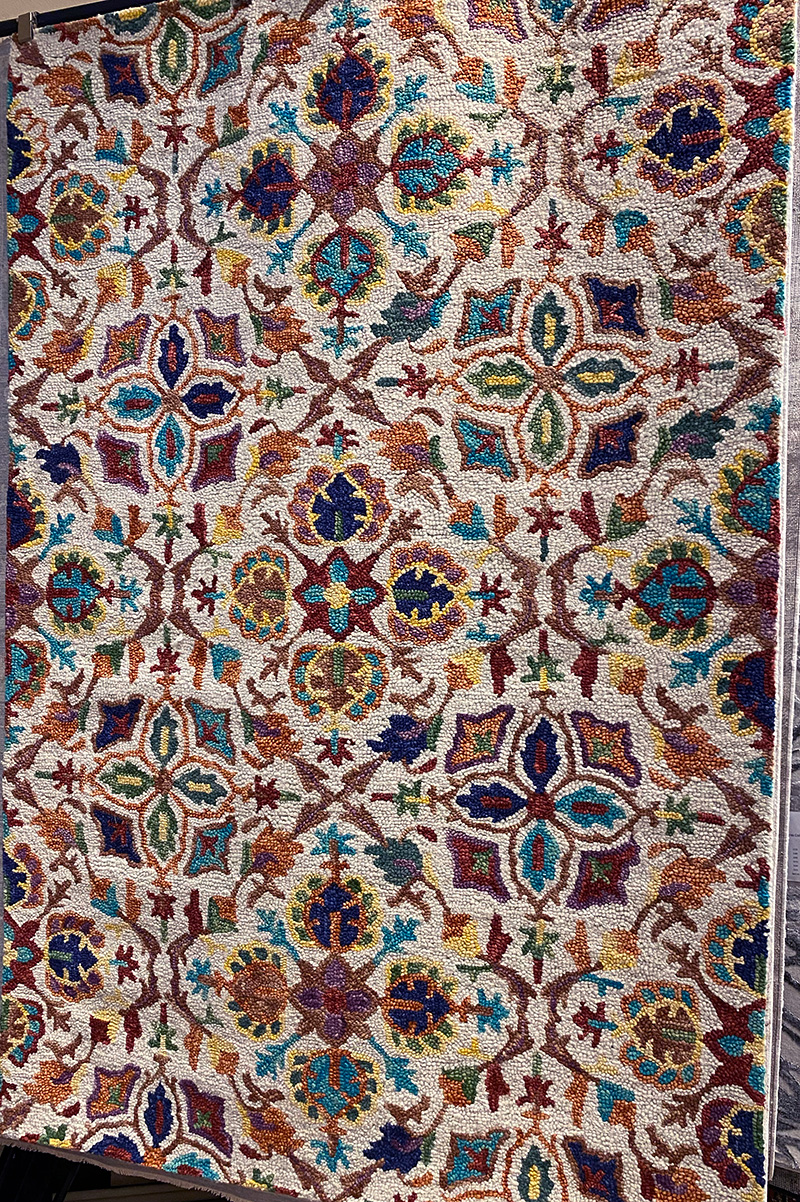 Nourison Michael Amini MA Star SMR03 Taupe
5'3"x7'3" $407.50
Michael Amini combines his extensive world travels and his
affinity for fashion to create the inspiration for each of his distinctive designs.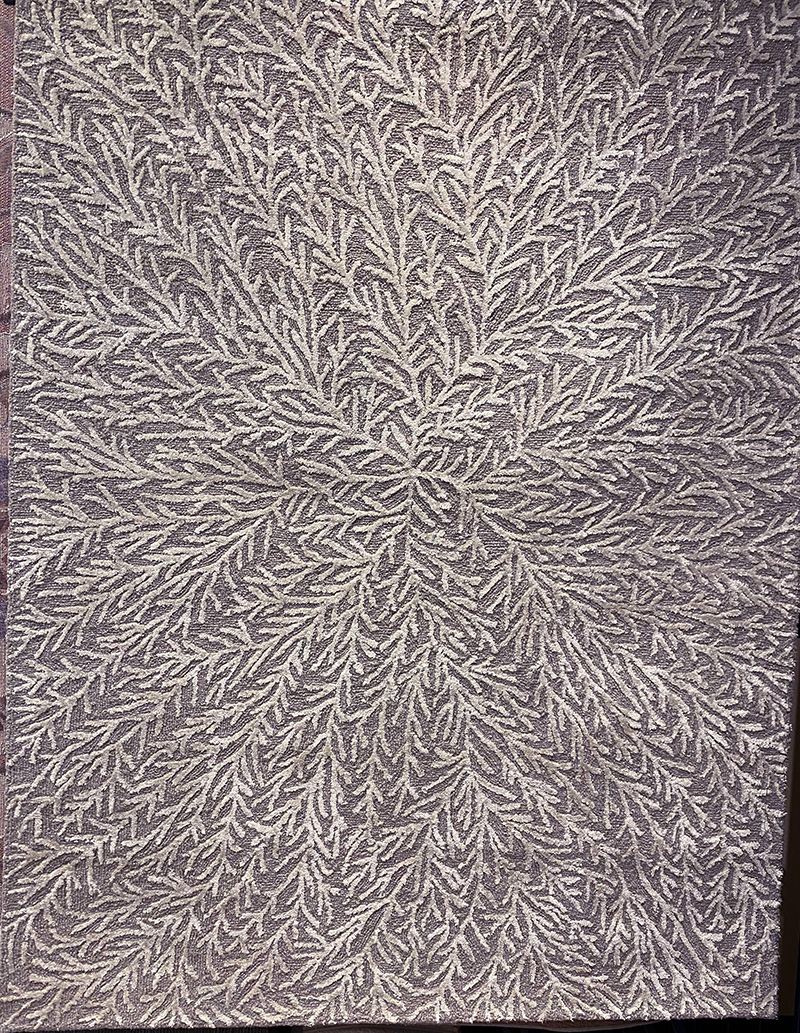 Nourison Aloha ALH21 Natural 5'3"x7'3" $150
With its textural high-low style pile and scrolling floral design, this Aloha indoor/outdoor rug invites a sophisticated feel to your home. Complementary tones of grey and ivory make for an elegant centerpiece for your patio or deck. Created from premium stain-resistant fibers for easy cleaning and upkeep: just rinse with a hose and air dry. (in person it is less grey and a more natural color)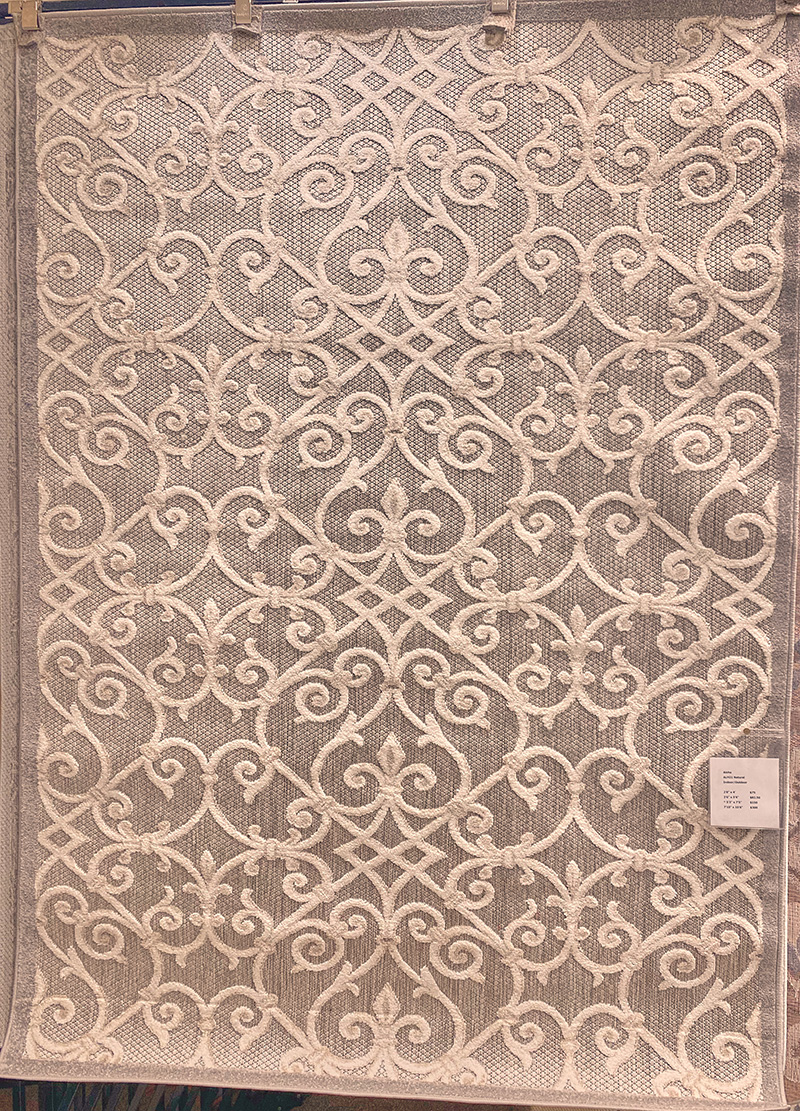 Nourison Nicole Curtis Washable SR102 Brick
5'3"x7'3" $157.50
Traditional meets contemporary with this rug from the Nicole Curtis Series 1 Collection. A classic Persian pattern in brick red, navy, and ivory tones, finished with a subtly distressed effect, lends a rustic vibe to your bedroom, home office, or living room. Flat woven from a delightfully soft blend of lightweight cotton and chenille thats easy to clean simply machine-wash.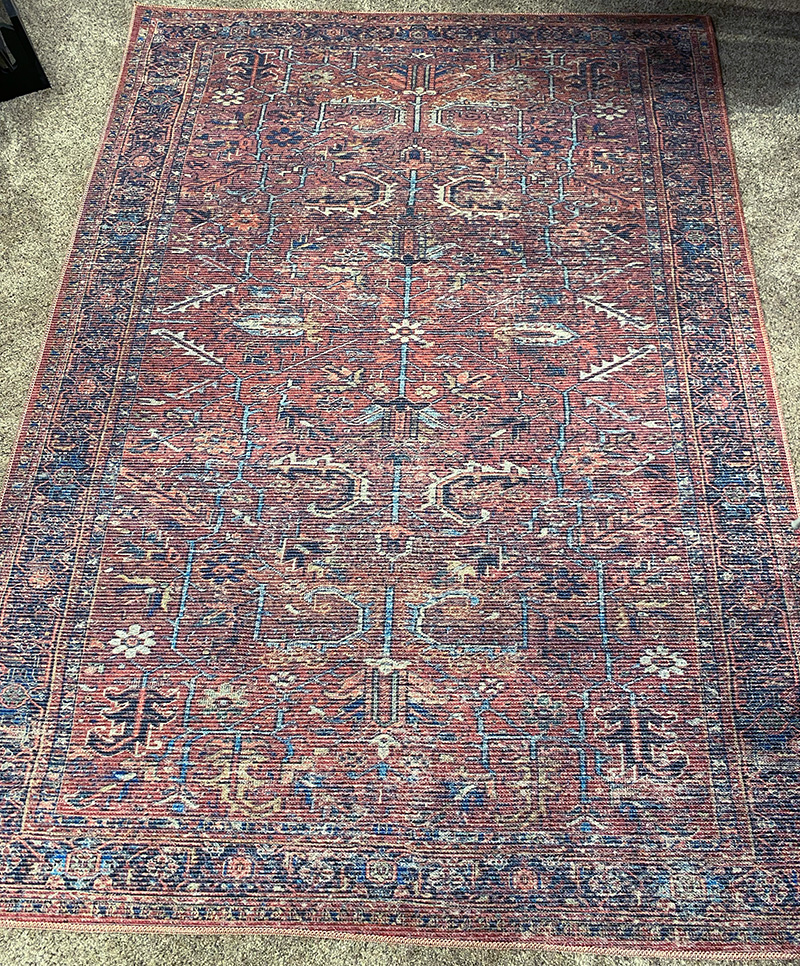 Nourison
Colorado Collection CLR 03 Beige Multicolor
5'3" x 7'3" $325
Inspired by the open weave of a rustic straw mat, this Colorado area rug will express your sense of style with casual and contemporary flair. Its layered textural look is enhanced by hand-tufted loop pile with lively variations in natural beige multicolor. Made of low-shed wool for softness and durability.

Nourison Ankara Global ANR06 Ivory/Orange
5'3" x 7'6" $250
Traditional designs take on French Country charm in this densely patterned vintage floral rug from the Ankara Global Collection. Subtly distressed blue, grey, yellow, orange, and green tones bring a welcoming, lived-in feel to your living room, bedroom, or home office. Machine made from a virtually non-shedding blend of polypropylene and polyester that's easy to clean, making it an ideal choice for busy households.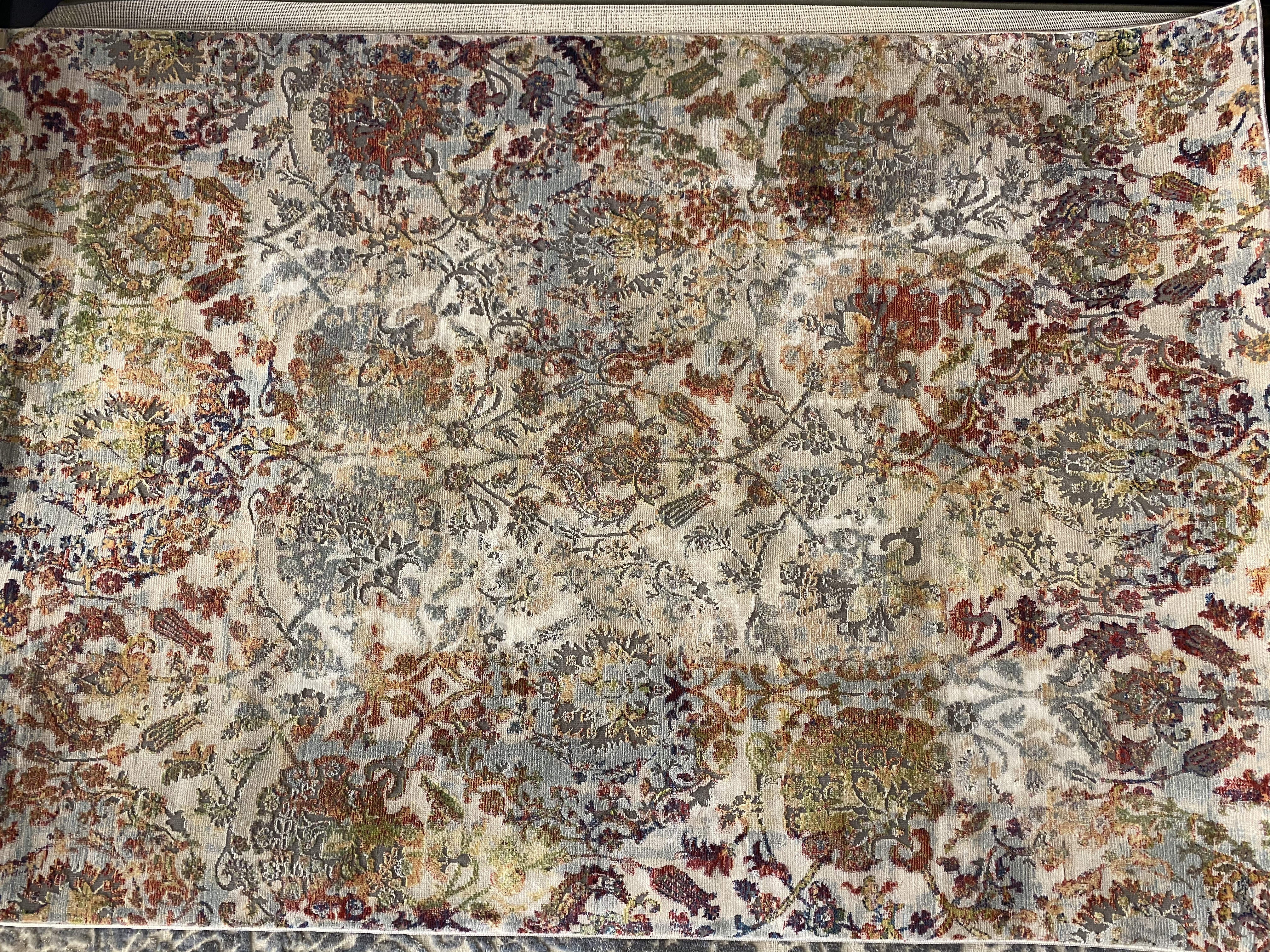 Nourison Rustic Textures Collection RUS17 IVGRY
5'3"x7'3" $275
Step into the comfort of a cool, leafy glade with this contemporary area rug design from the Rustic Textures Collection. Its floral pattern of overlapping fronds is created in subtle, modern tones of ivory and grey for a hint of nature with abstract sophistication. The high-low textured cut pile is soft underfoot, low shed and easy clean, with a sleek serged edge.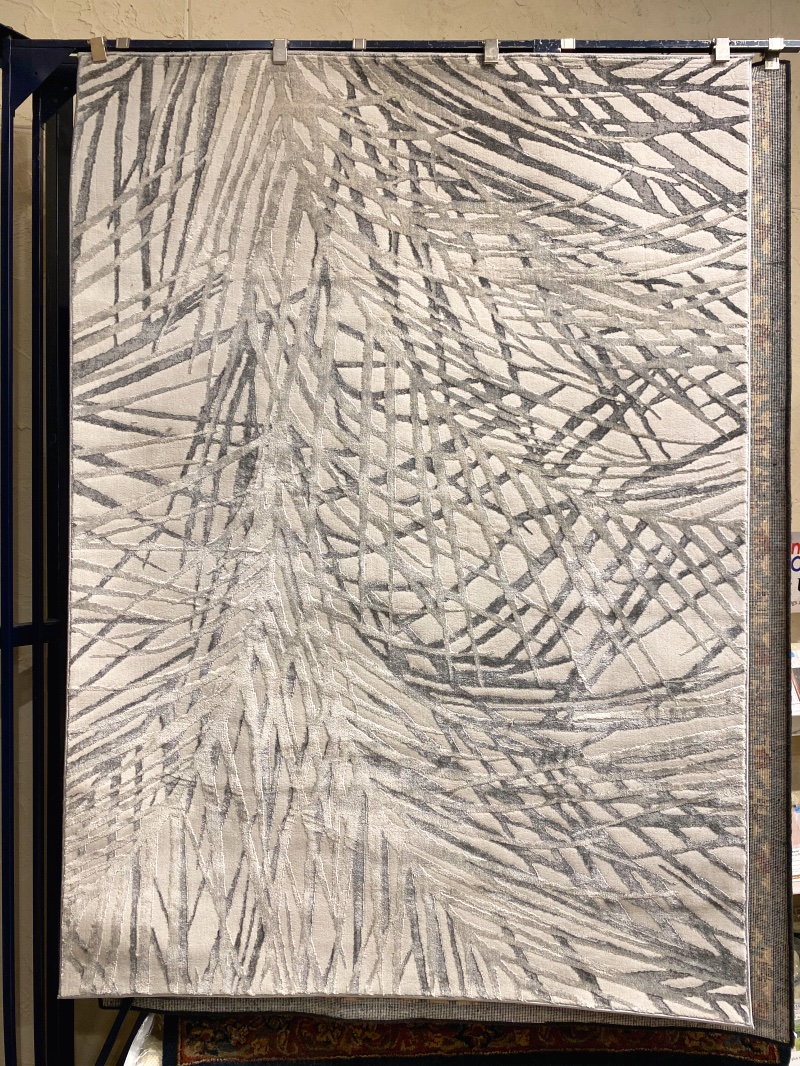 Nourison Royal Terrace KI40 IVGRY
5'3" x 7'3" $312.50
A subtle floral pattern adds intrigue to this modern kathy ireland® Home by Nourison rug. Ivory and grey fibers form a neutral base with gentle pops of blue and flecks of gold. Borderless design and a hint of sheen give it a contemporary feel that will work well in almost any room.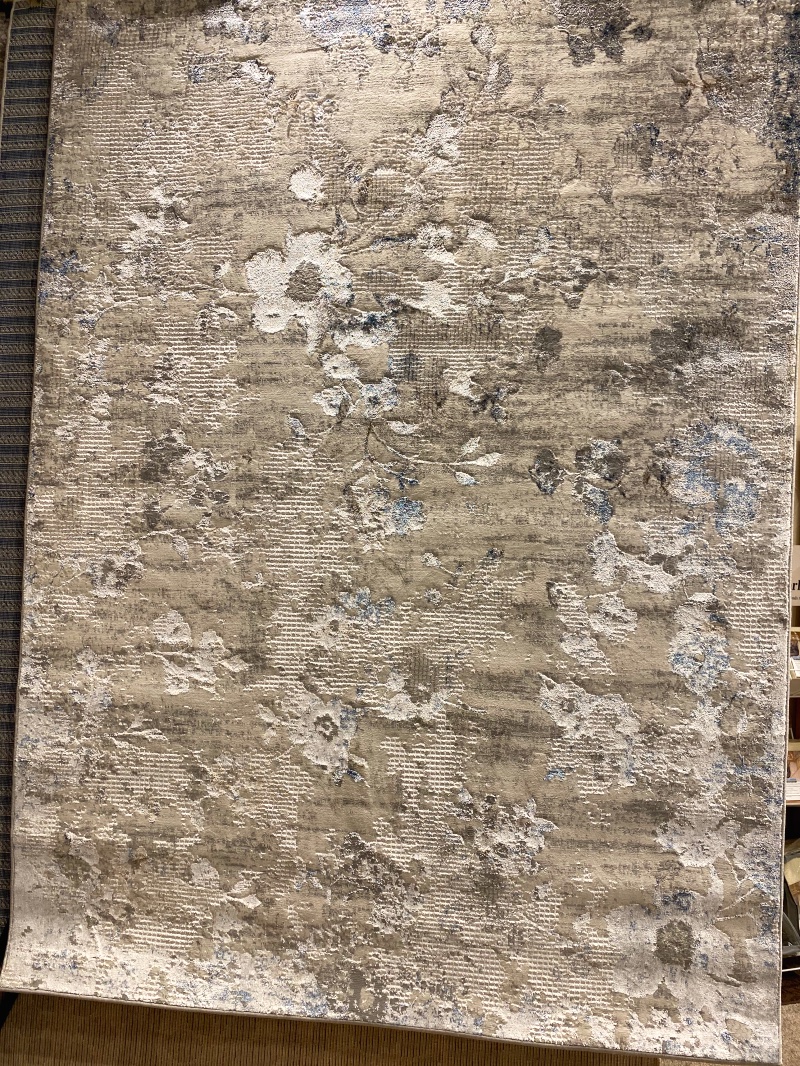 Nourison Infinite Collection IFT04 Charcoal 5'3"x7'8" $425
A garden captured at its moment of perfection provides the inspiration for this classic Persian rug from the Infinite Collection. Big, bold, stylized blossoms tease the imagination, while the thick, plush texture creates a luxurious hand feel. Artfully faded in soft charcoal tones for the vintage look of a true antique rug.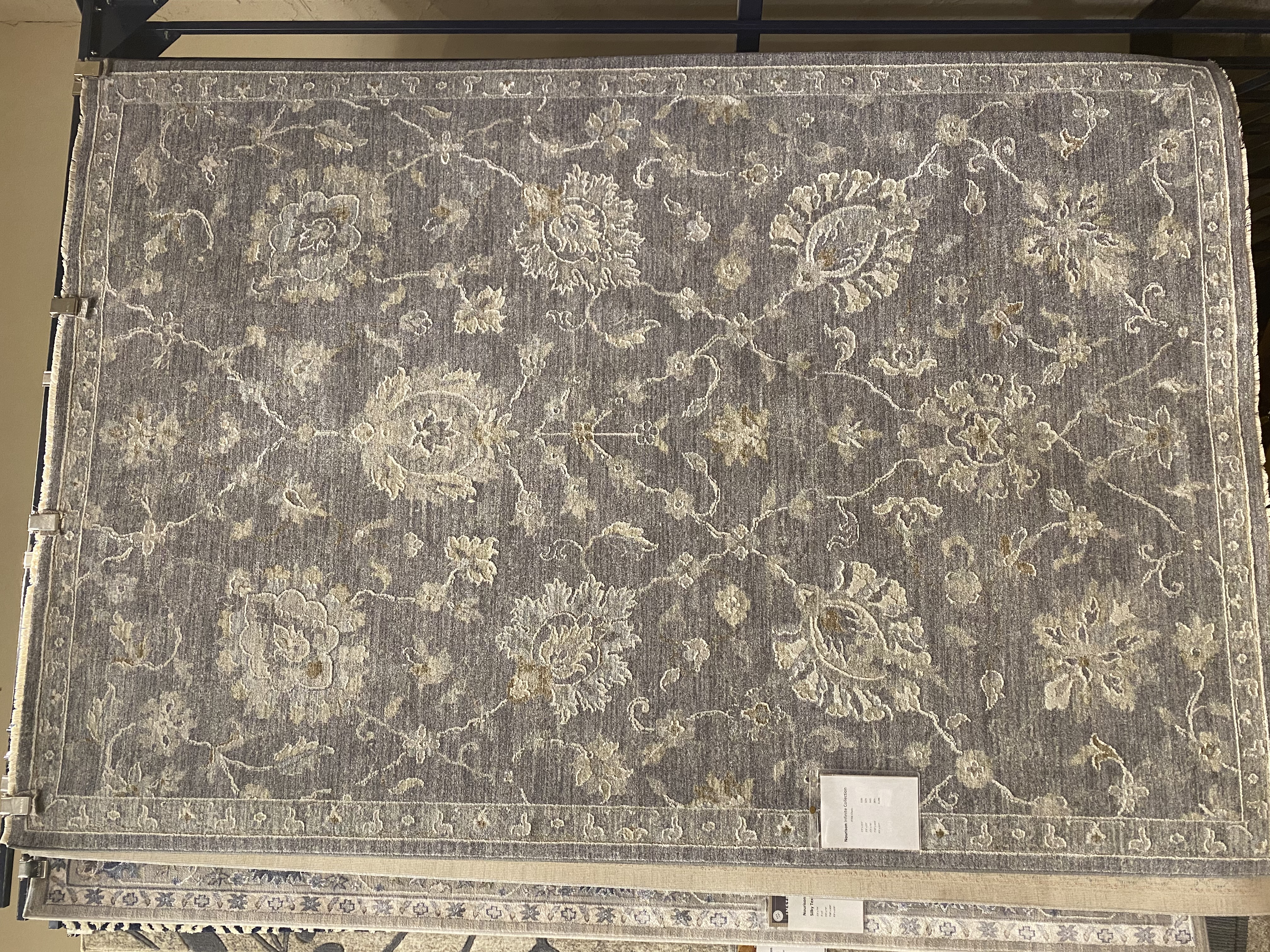 Nourison
Kathy Ireland Moroccan Celebration KI385 Navy
2'2" x 7'6" $165. this runner is sold - can be ordered for you in many sizes.
With a deep abrash navy blue field, this traditional bordered Persian rug design from the Moroccan Celebration Collection provides a regal elegance to any room in the home. Power loomed for durability and easy care, with the style and grace that exemplifies kathy ireland® Home.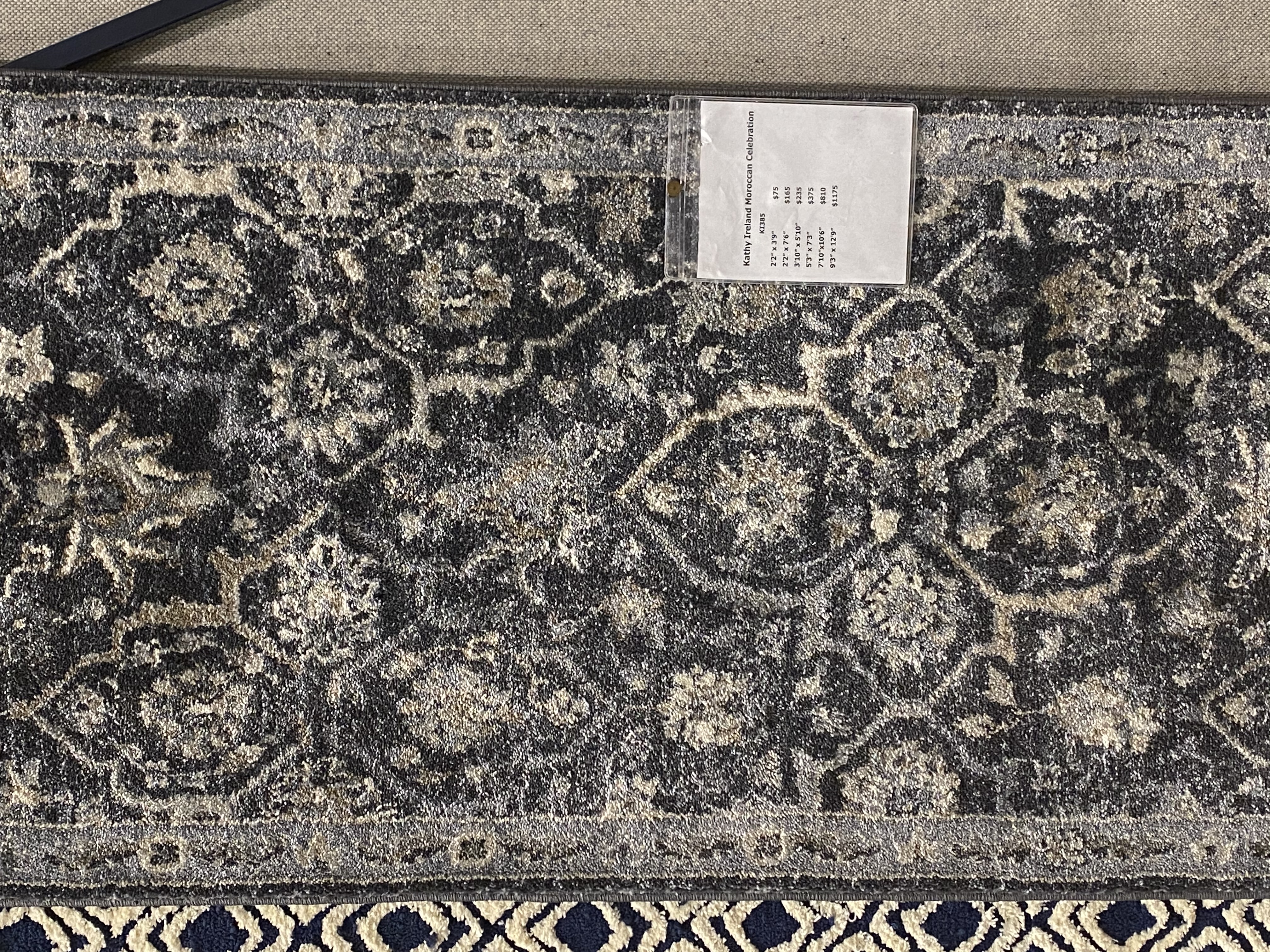 Nourison Damask DAS06 Blue 5' x 7' $162.50
Artful fading gives this lush Damask Collection area rug a traditional, vintage look that is equally at home in modern décor. With its borderless design, serged edge and distressed surface effect, it makes a casual yet luxurious fashion statement. Power-loomed in a low-shed poly-cotton blend, in a versatile blue and grey colorway.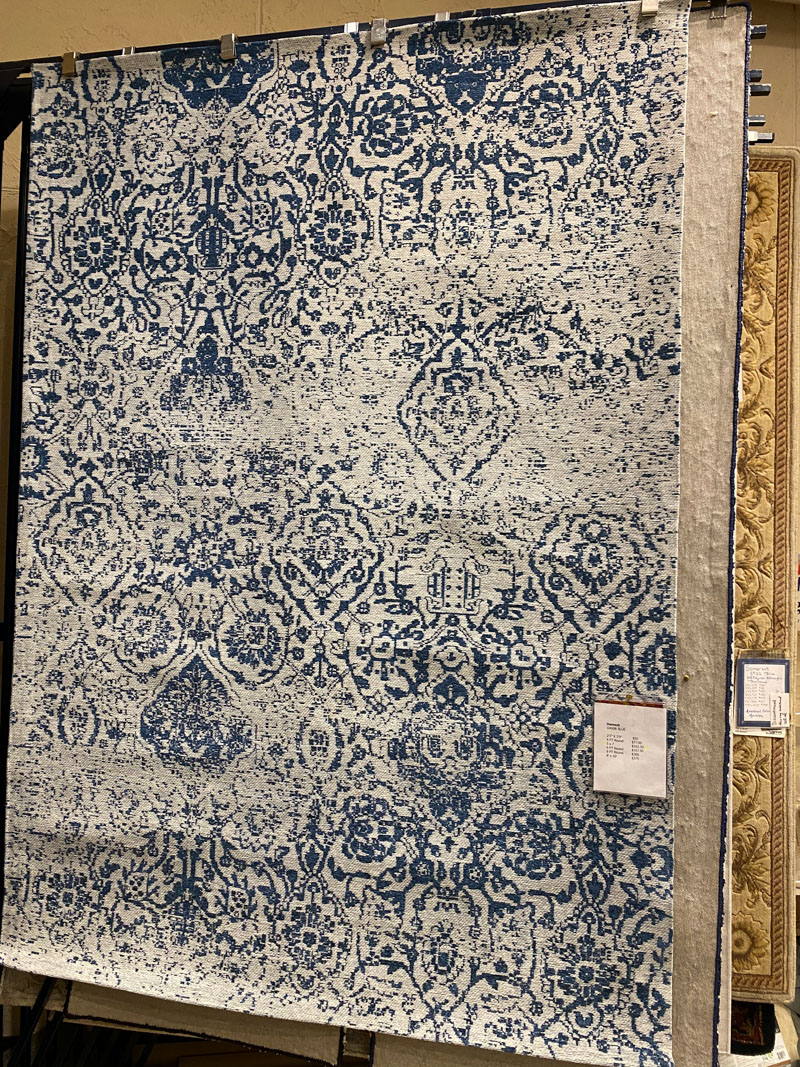 Nourison
Key Largo KLG04 Dk Grey Indoor/Outdoor
5'3" x 7'3" $137.50
This elegant Key Largo area rug takes the intricacies of a classic Persian Garden design and simplifies it for the modern home. The light floral details on a rich, dark-grey ground make an eye catching design statement, indoors or out. Power-loomed with the quality touch of cut-and-loop pile.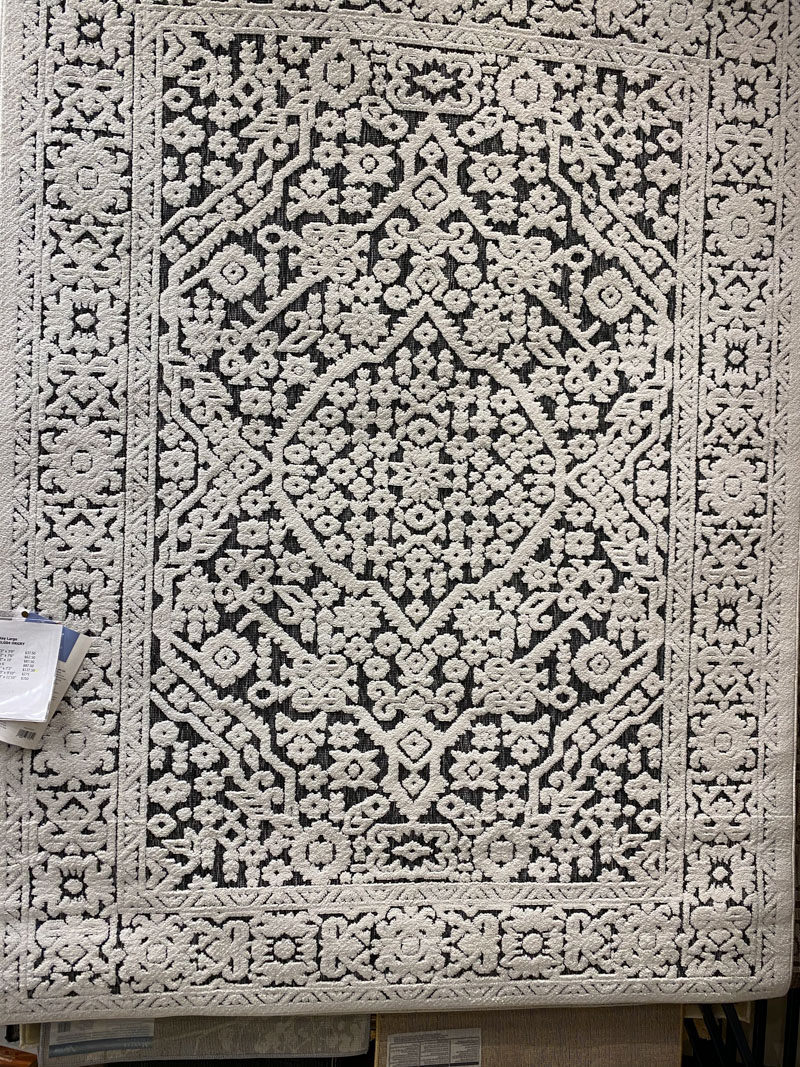 Nourison Aloha ALH20 Indoor/Outdoor
5'3" x 7'5" $137.50
This indoor/outdoor rug from the Aloha Collection features soft cut pile and textural woven patterns in bursts of color sure to enliven any space, both inside and outside your home. Twisting vines and blooms in blue, cream and grey add a festive floral touch to your patio or deck. Created from premium stain-resistant fibers for long wear, low maintenance, and a splendid texture.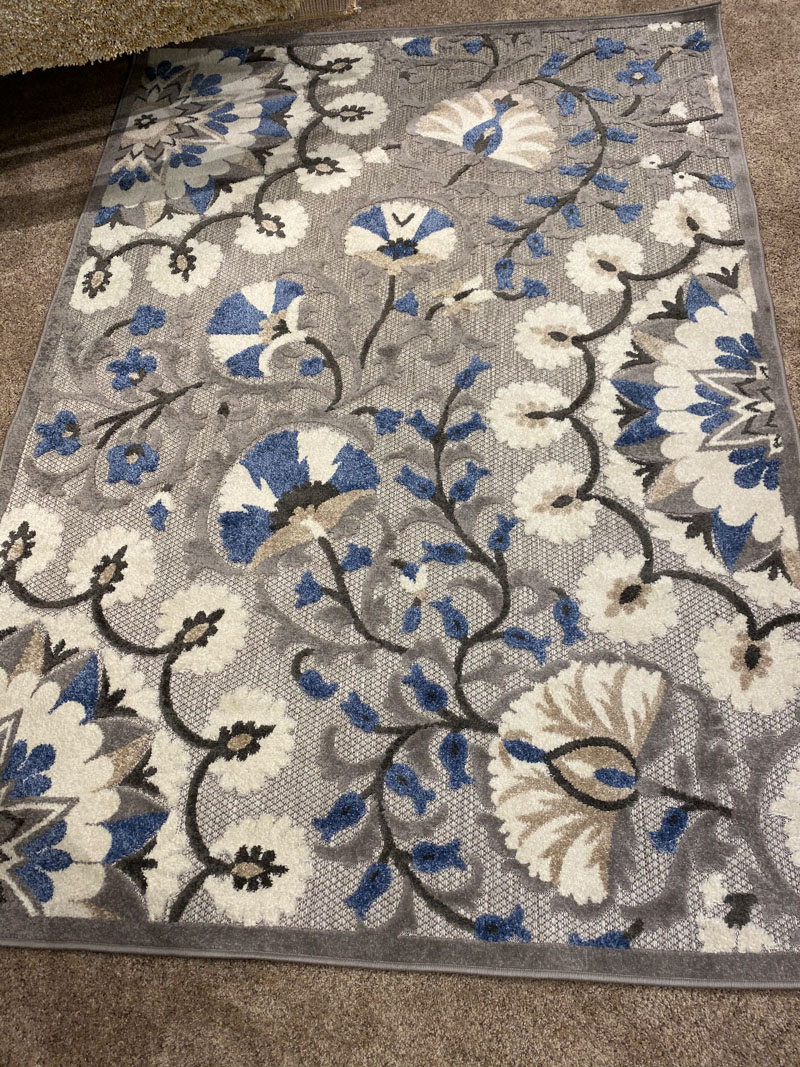 Nourison Key Largo KLG01 Blue Indoor/Outdoor
5'3"x7'3" $137.50
The subtle, shape-shifting stripes of this Key Largo design bring a fresh, contemporary look to your indoor or outdoor space. This versatile area rug looks as good in your favorite room as it does on a patio, porch or pool deck. Elegant in lagoon blue with the special touch of cut-and-loop pile in an easy-care poly-fiber blend.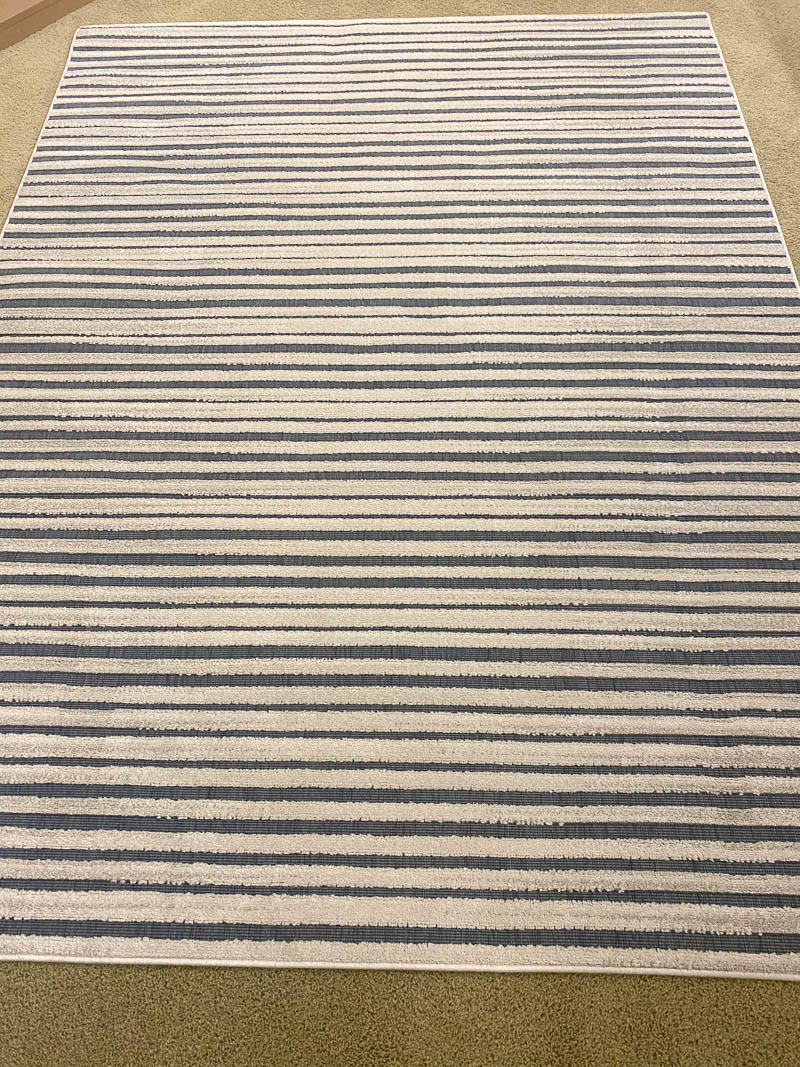 Stella 5'3"x7'6"- $200 $180 only one left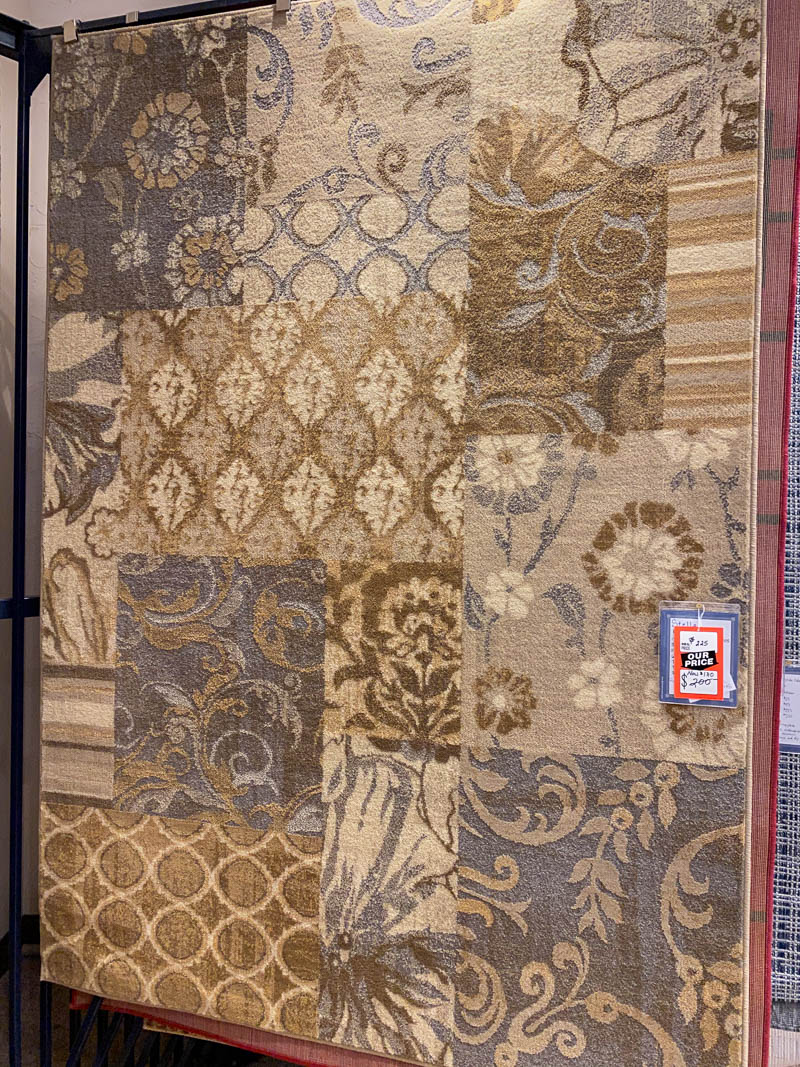 Somerset latte ST757 Latte 2'3"x8'0" $138. Maxell Grey MAE11 Grey 2'2"x7'6" $113
both availabe in more colors and sizes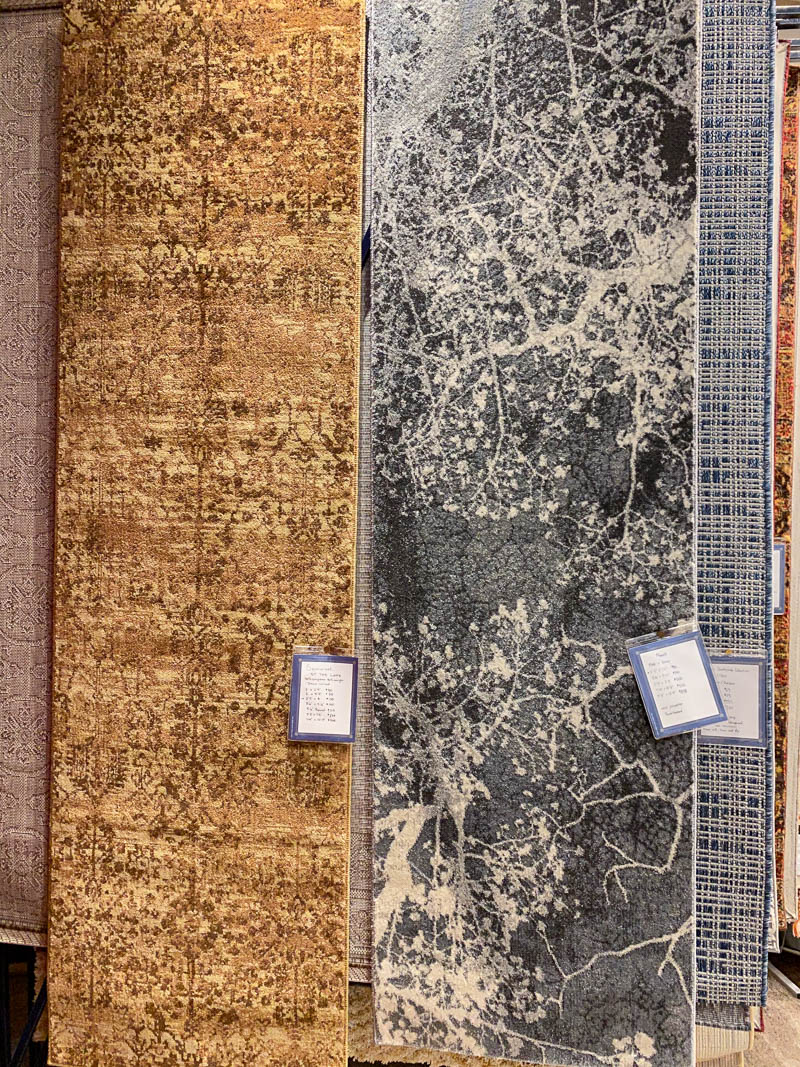 Nourison 2000 NewZealand Wool - $xxx - SOLD. available in many sizes and colors by order.


Please call us for pricing on all area rugs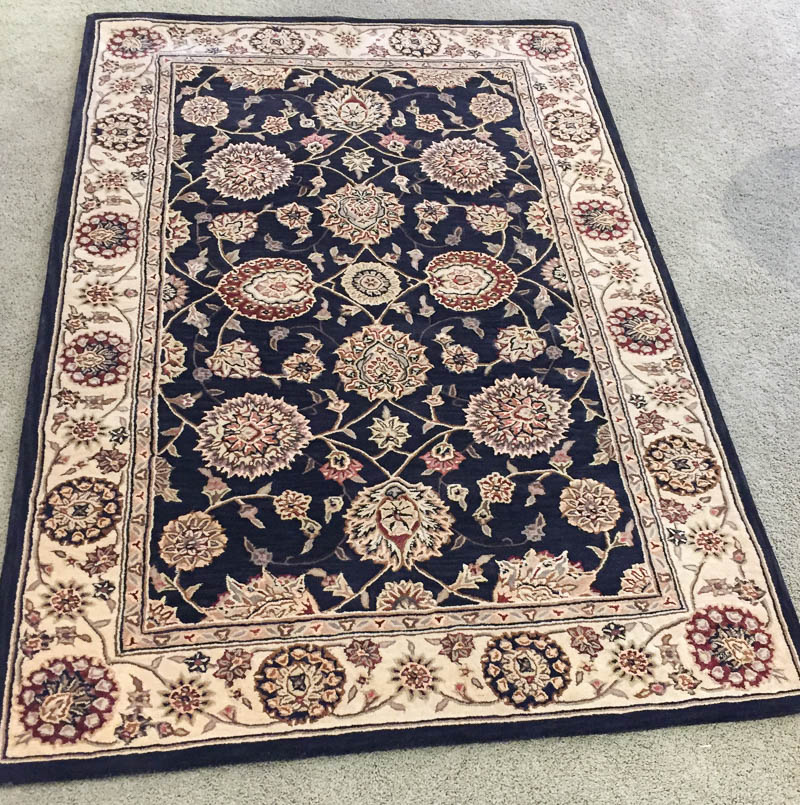 Laguna Collection Perry Garden Green 5x8 soft shag - $202 $150 NOW $120 only one left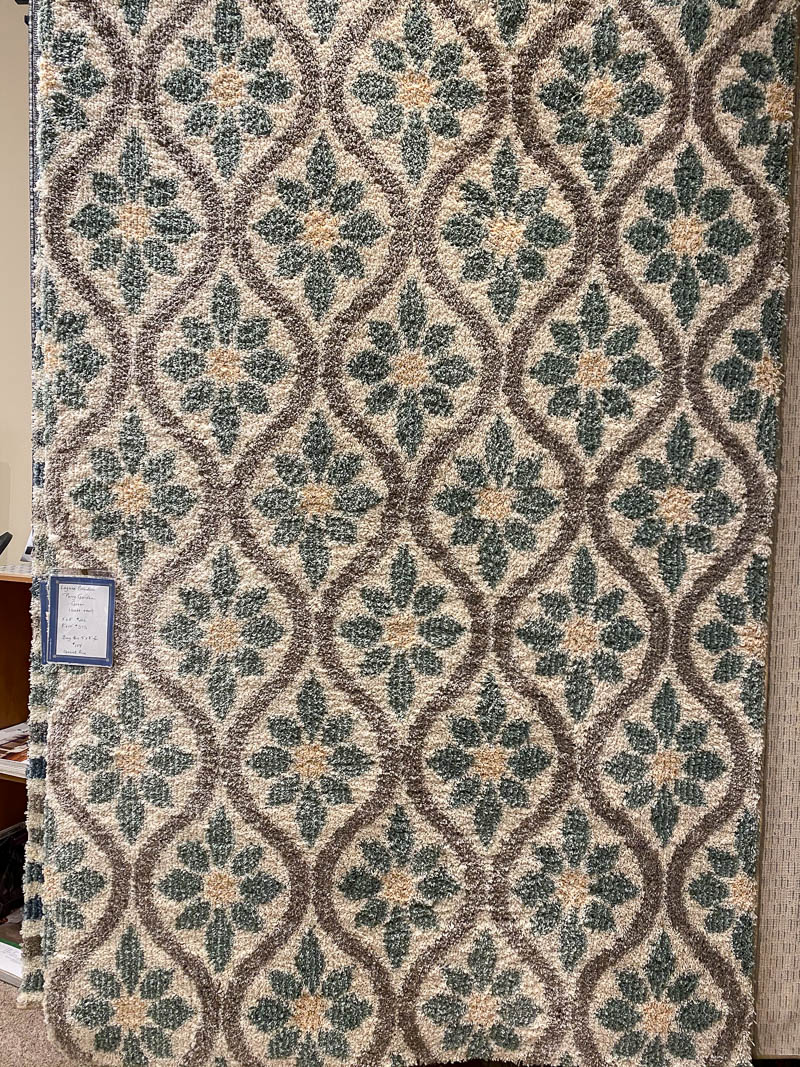 Laguna Collection Stitched Chevron Blue 5x8 soft shag - $202 $150 NOW $120 only one left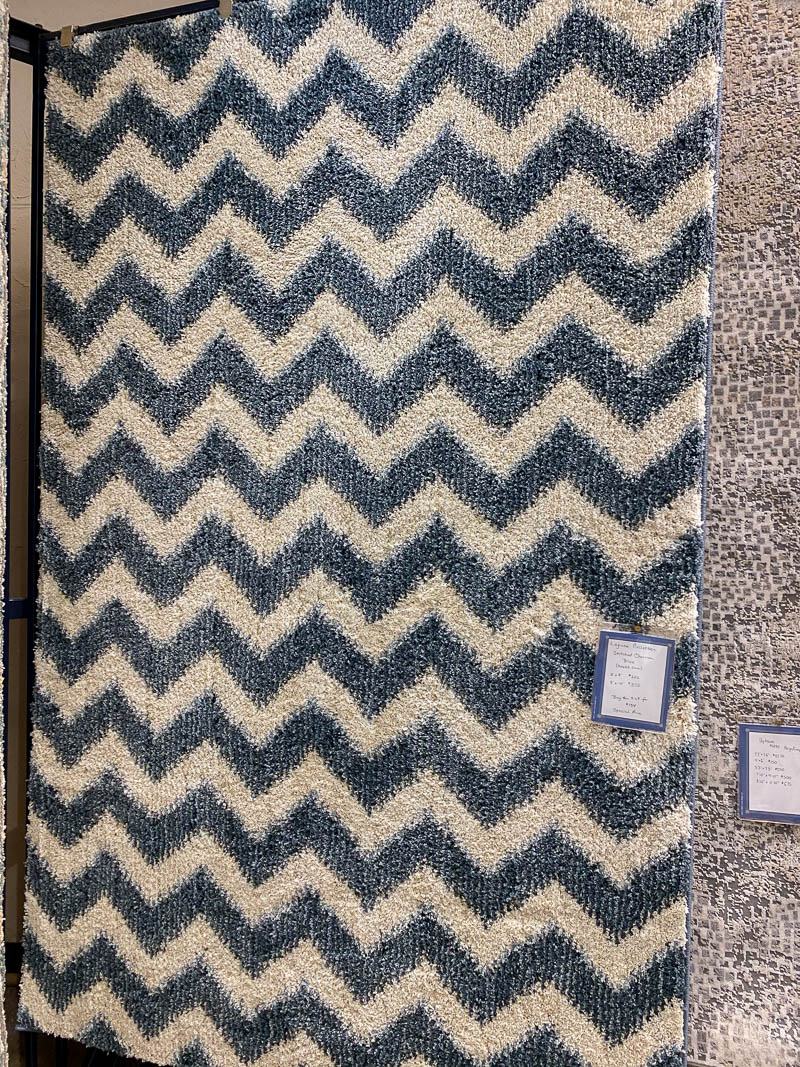 Uptown MA 90 Beige/Grey 5'3"x7'3" $250. Now $200 Last One

Generations 544G 5'3"x7'9" - $343 ON SALE for $225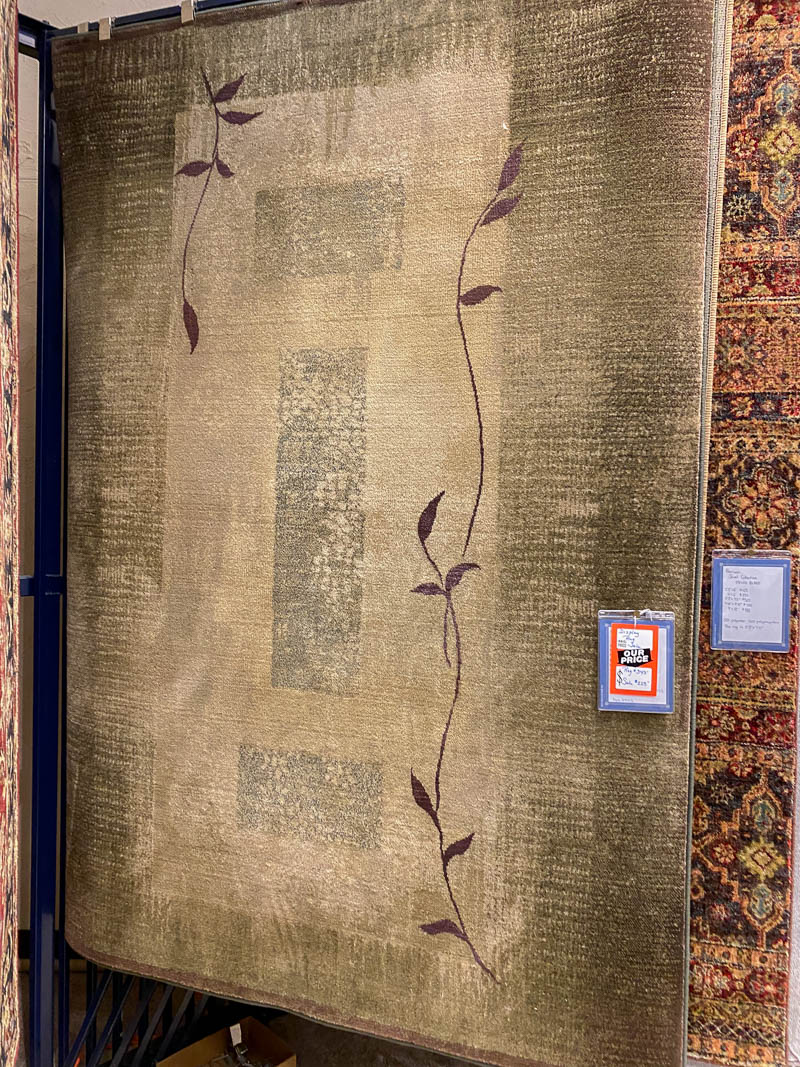 Nourison custom rug - $xxx - SOLD many more choices in custom rugs available by order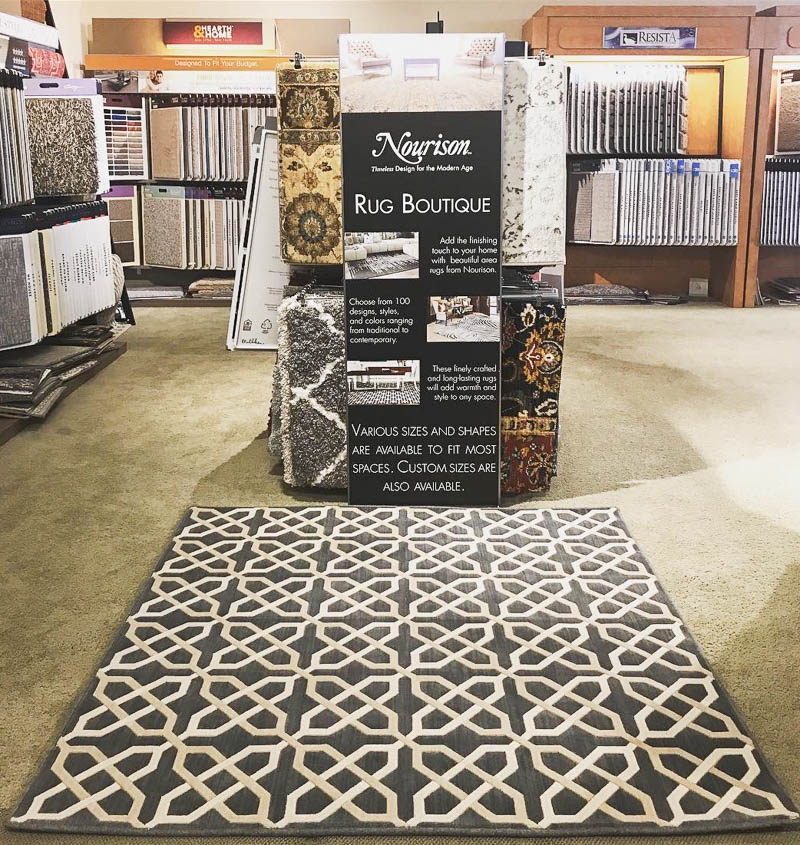 Jewel Collection JEL03 BLRED 5'3"x7'5" - $363 limited supply - this one NOW $295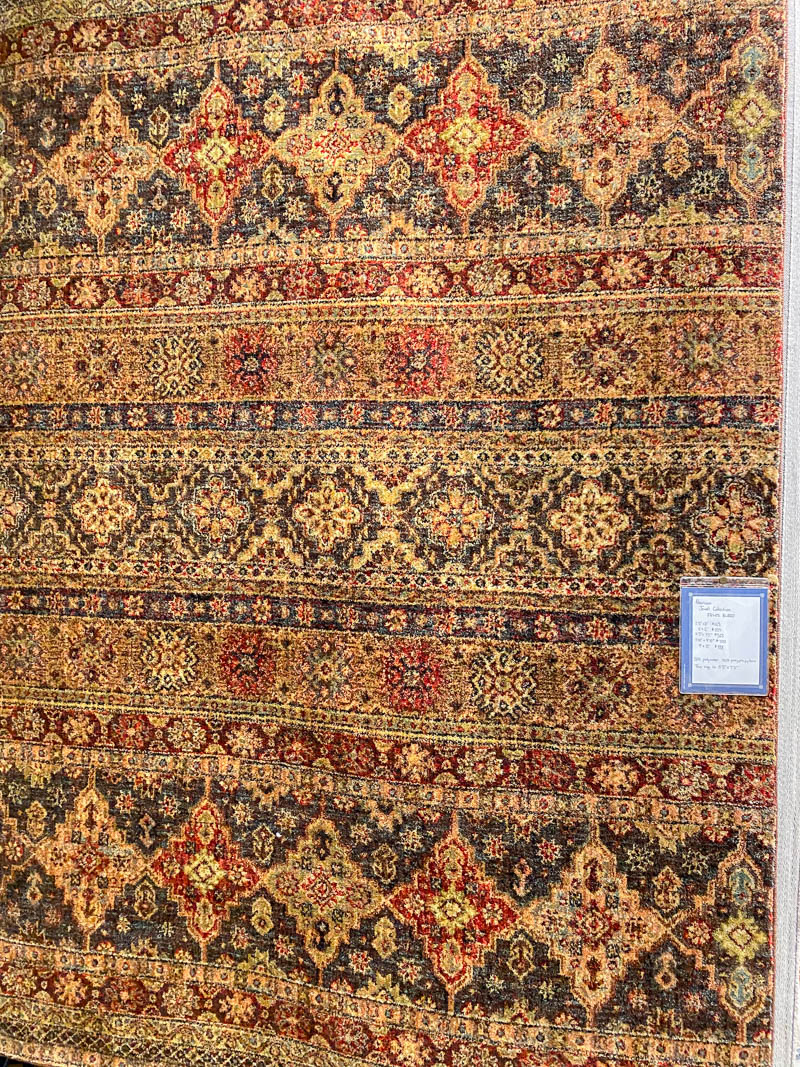 Nourison Weston WES01 Oatmeal 5'3"x7'5" - $500 Color blanket shown to show other color choices.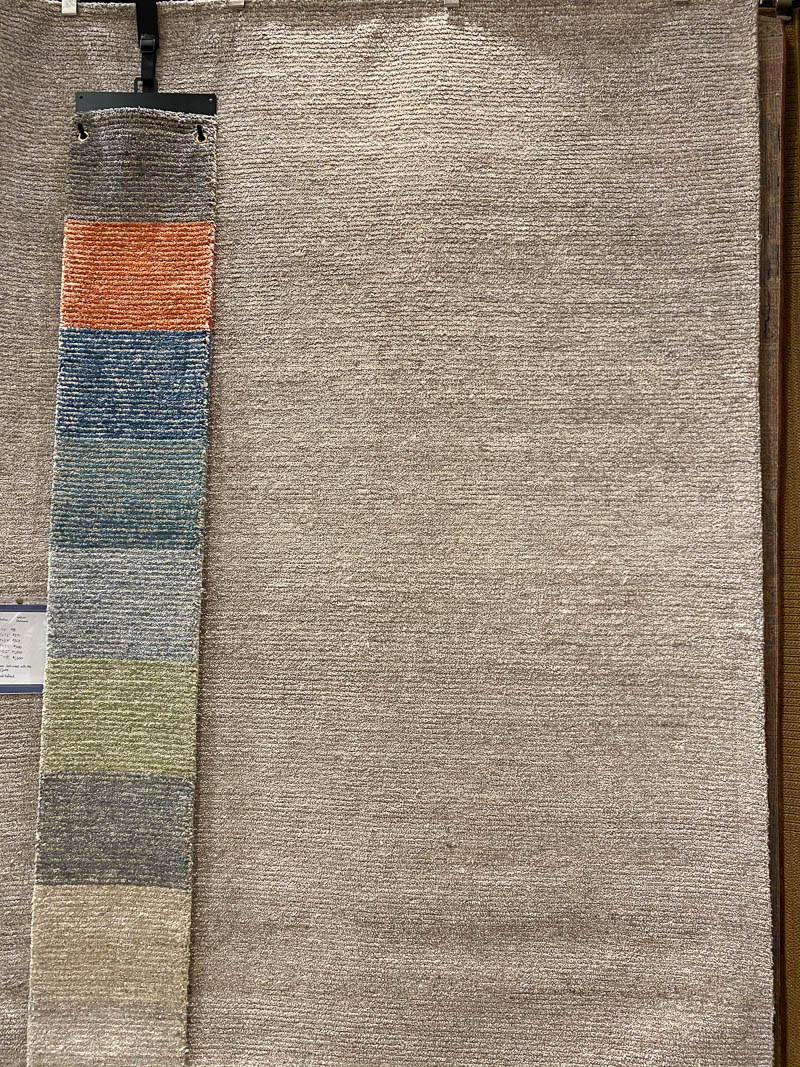 Nourison Rio Vista DST01 5' x 7'6" - $175 this is now a discontinued style - this rug $140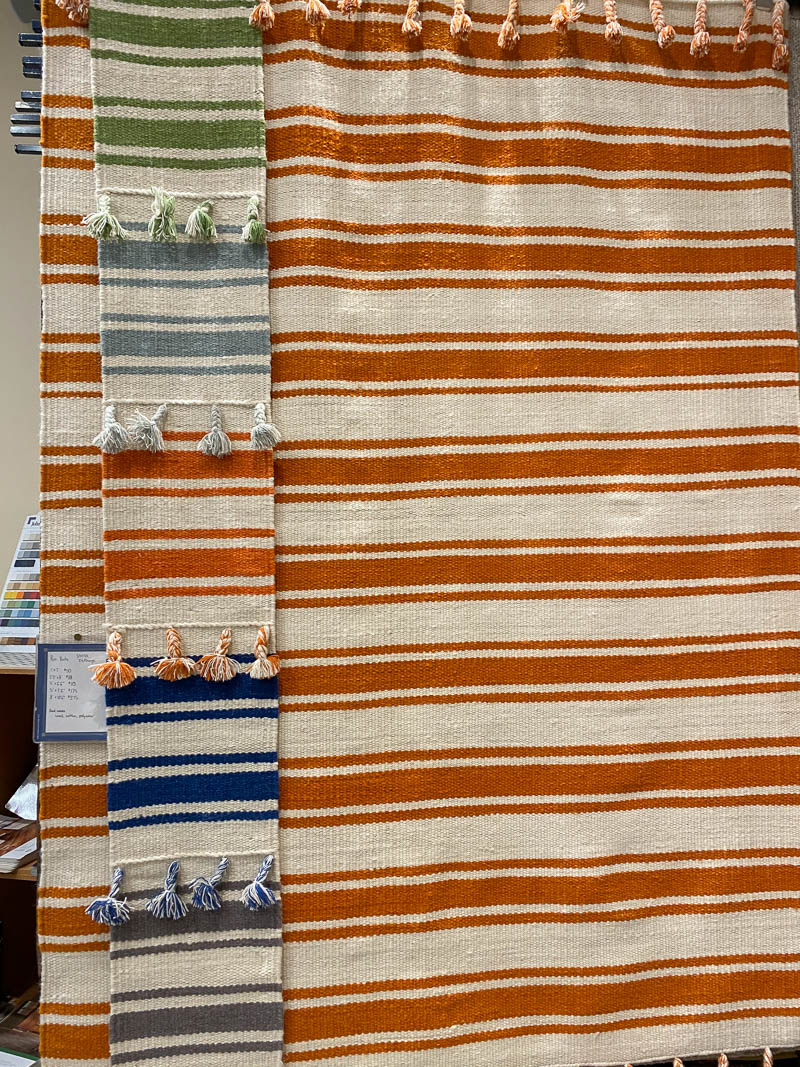 Nourison Galway GLW02 5'x7' soft thick shag - $350 more sizes available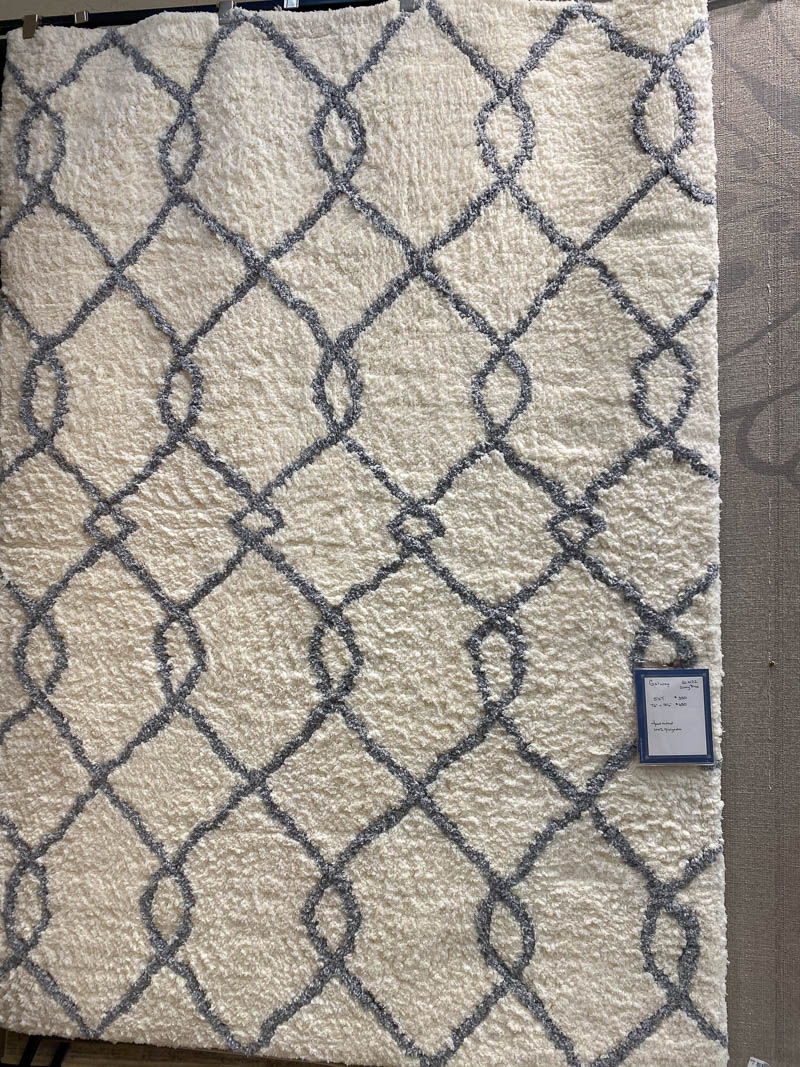 Nourison Deco Mod Navy/Ivory 2'3"x7'6" $120 Deco Mod Black/Beige 2'3"x7'6" $120
Discontinued style - take 20% off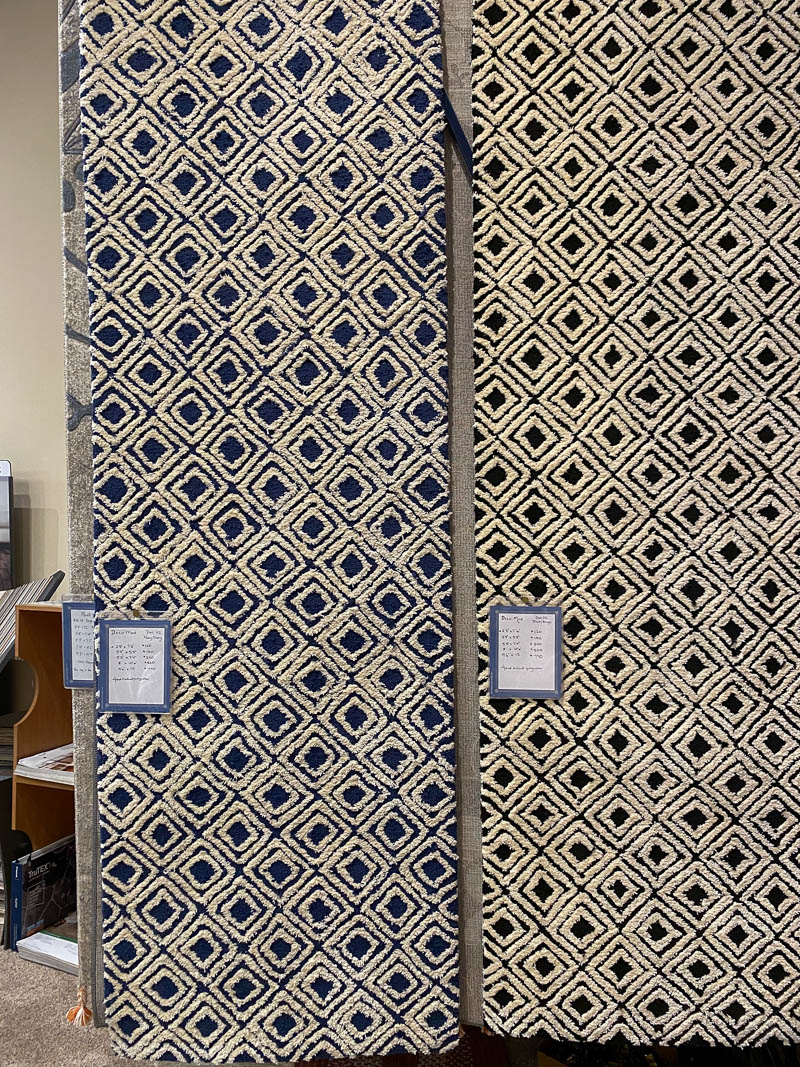 Nourison Homestead Beige/Grey - Beautiful colors. This one is sold, but available by order!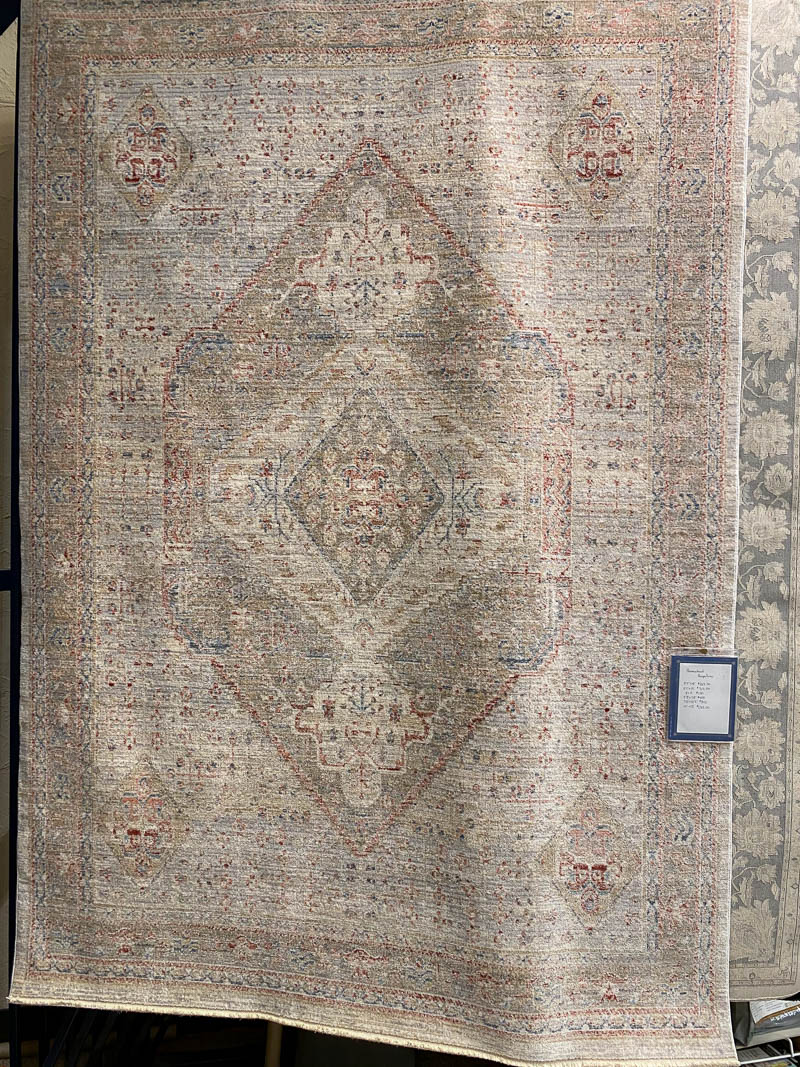 Nourison. Silky Textures SLY09 Ivory 5'3"x7'3" - $350 more sizes available!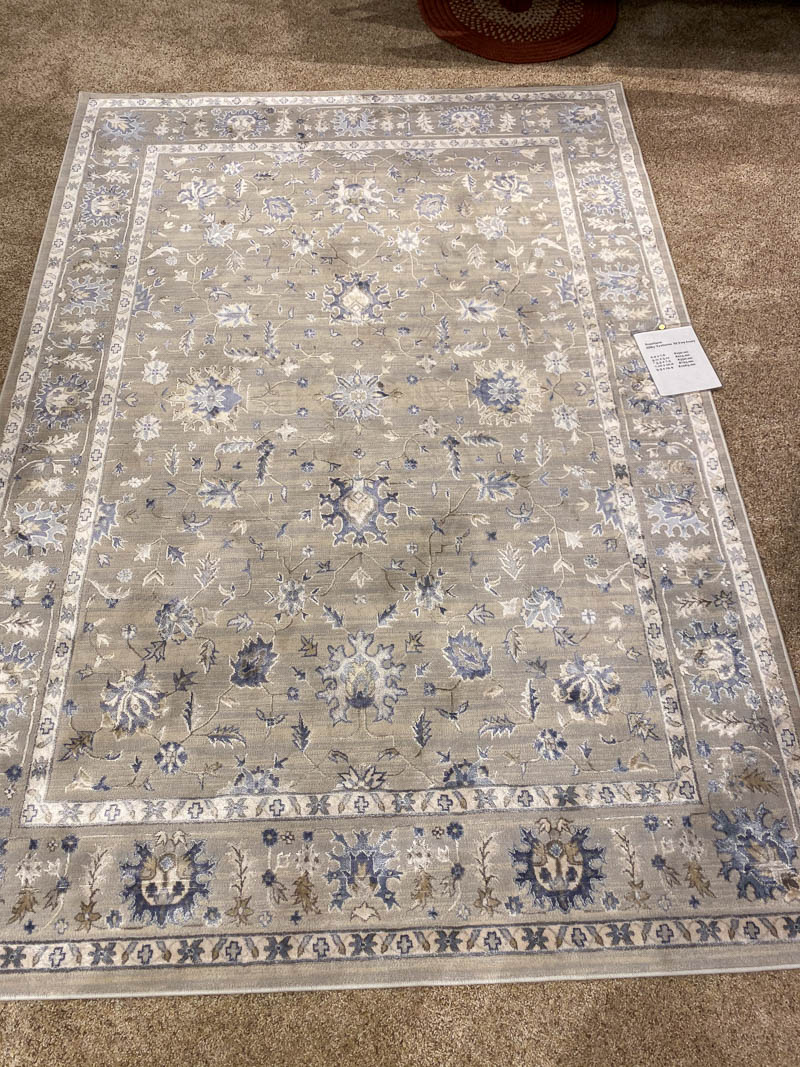 Nourison Silky Textures Collection Blue/Grey 5'3"x7'3" - $350 more sizes available by order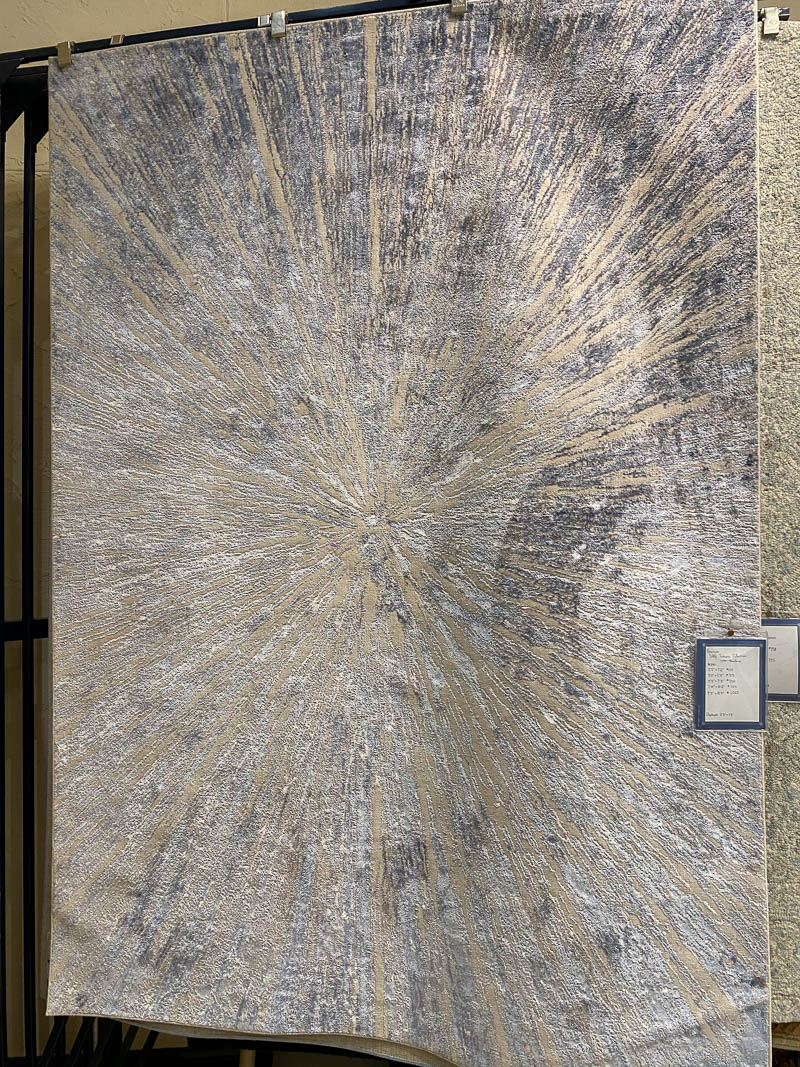 Graphic Illusions GIL 09 Sky 5'3"x7'5" - $287 Last One $230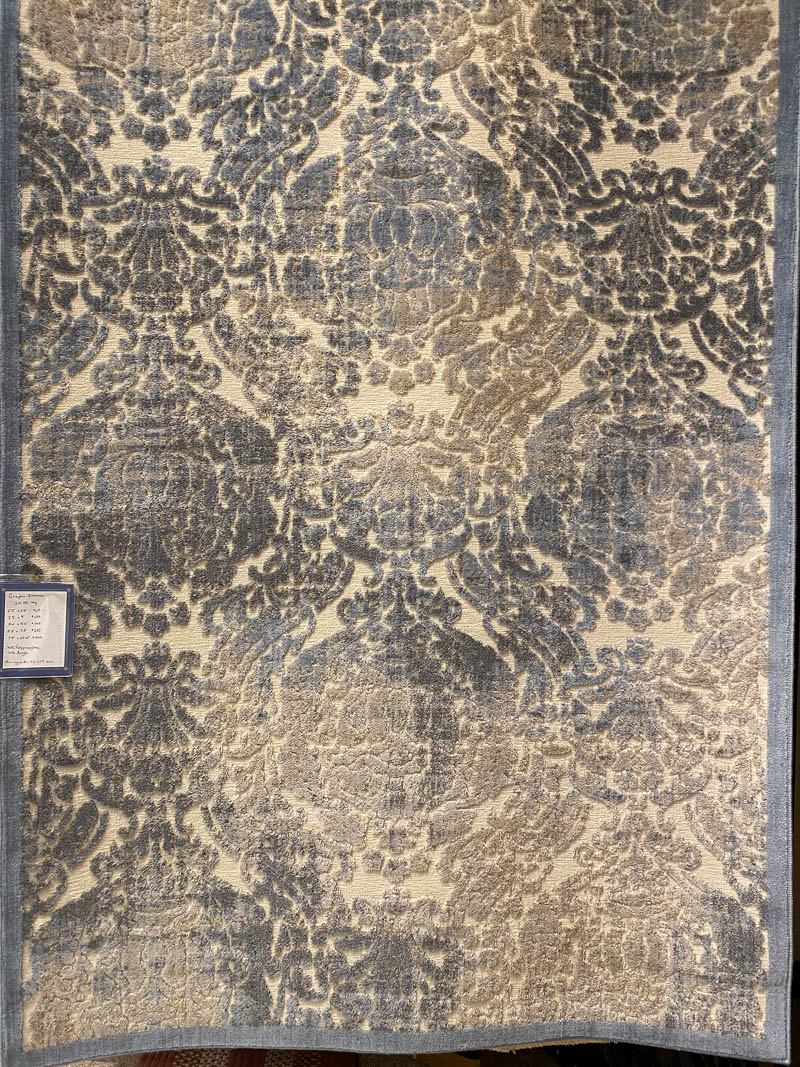 Nourison Lagos LAG01 Cream 5'3"x7'6" - $375- Available in more sizes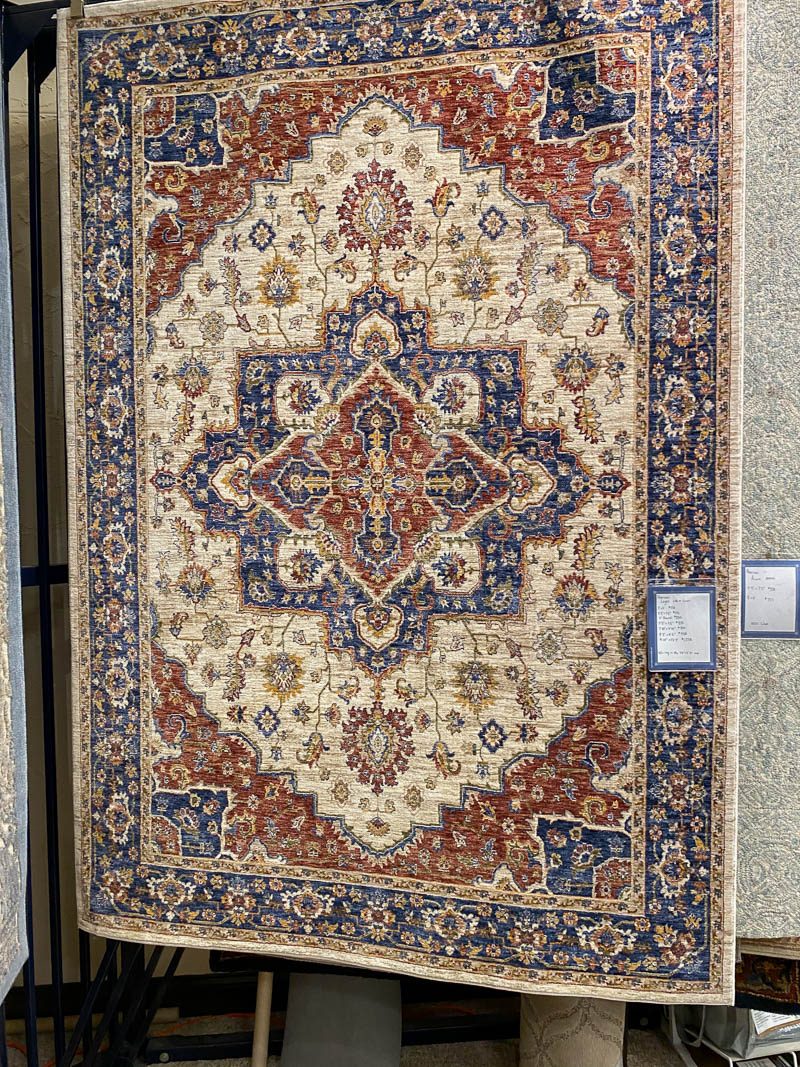 Nourison Marana MNN01 Charcoal 5' x 7'6" 100% wool, hand-loom woven - $275
Available in the colors shown on the color blanket in many sizes.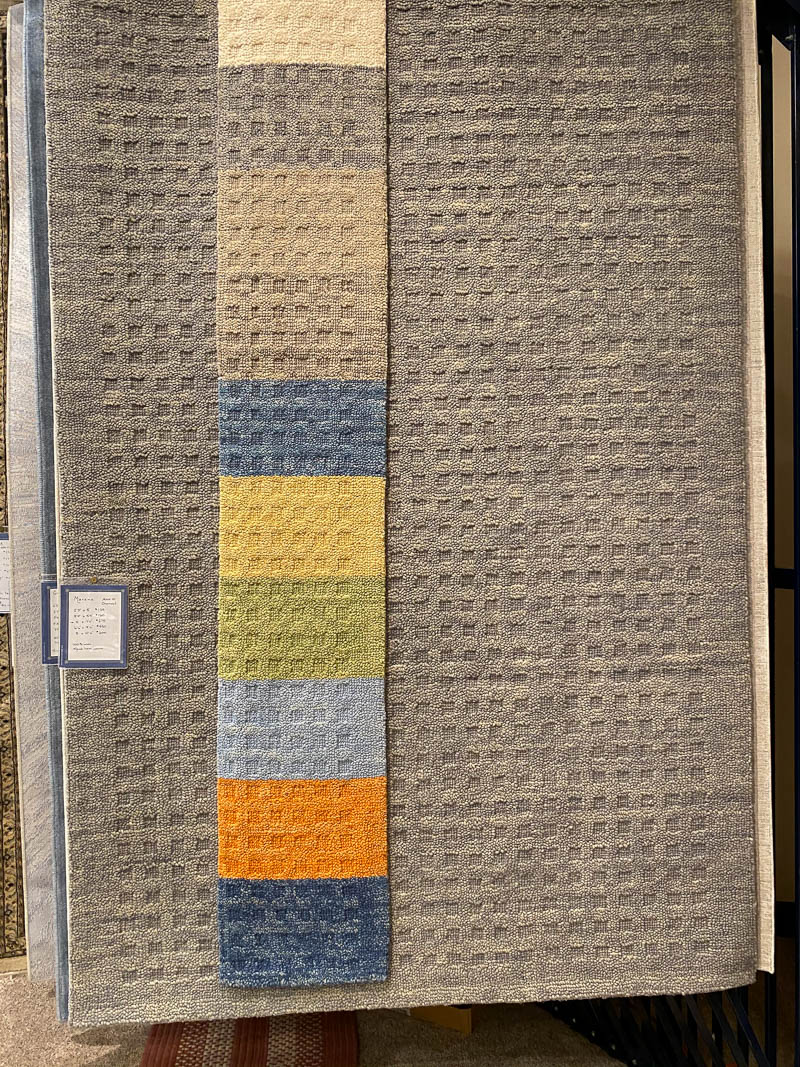 Nourison 2020 NR206 Midnight 5'3"x7'5" - $538 - Available in more sizes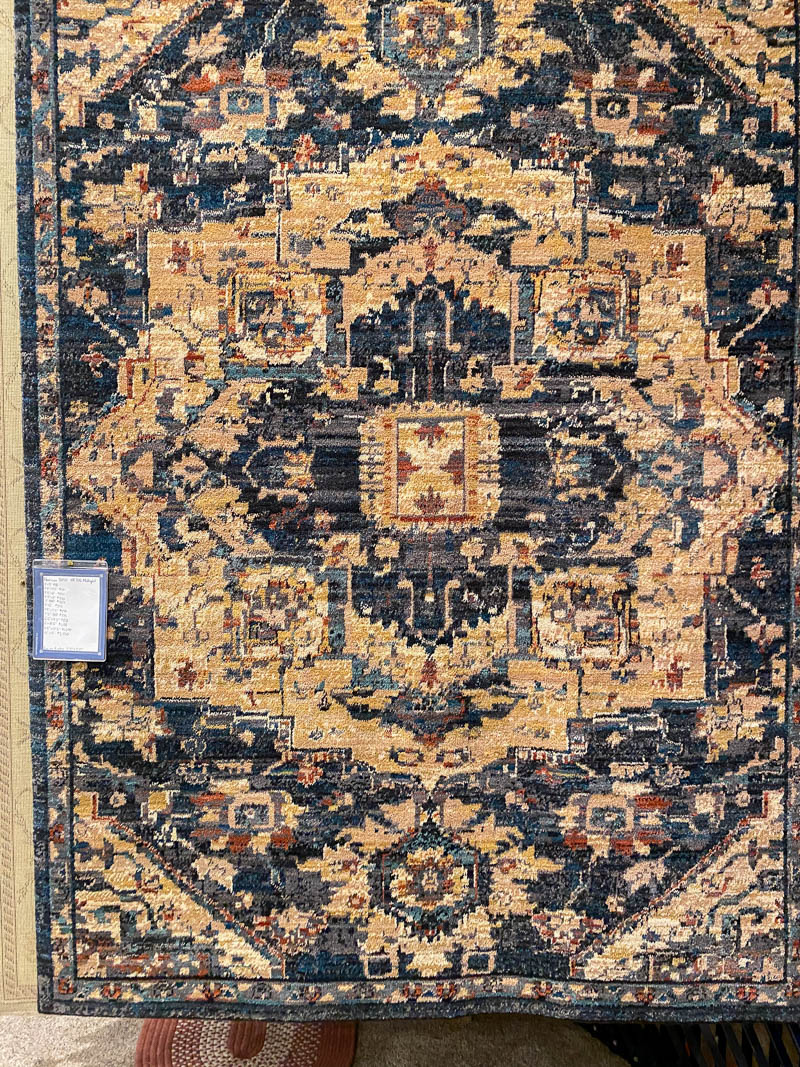 Nourison. India House 100%wool hand tufted 5 x 8 - $315 Last one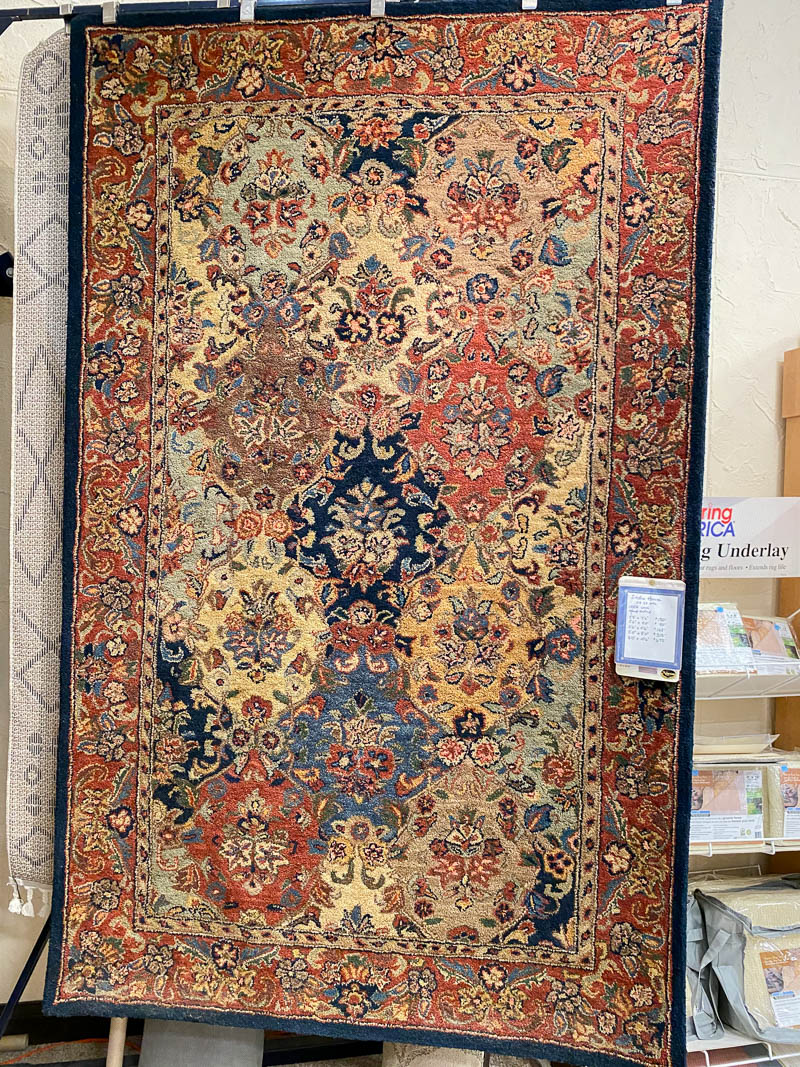 Nourison Moroccan Shag 5'3"x7'11" - $263 - Available in more sizes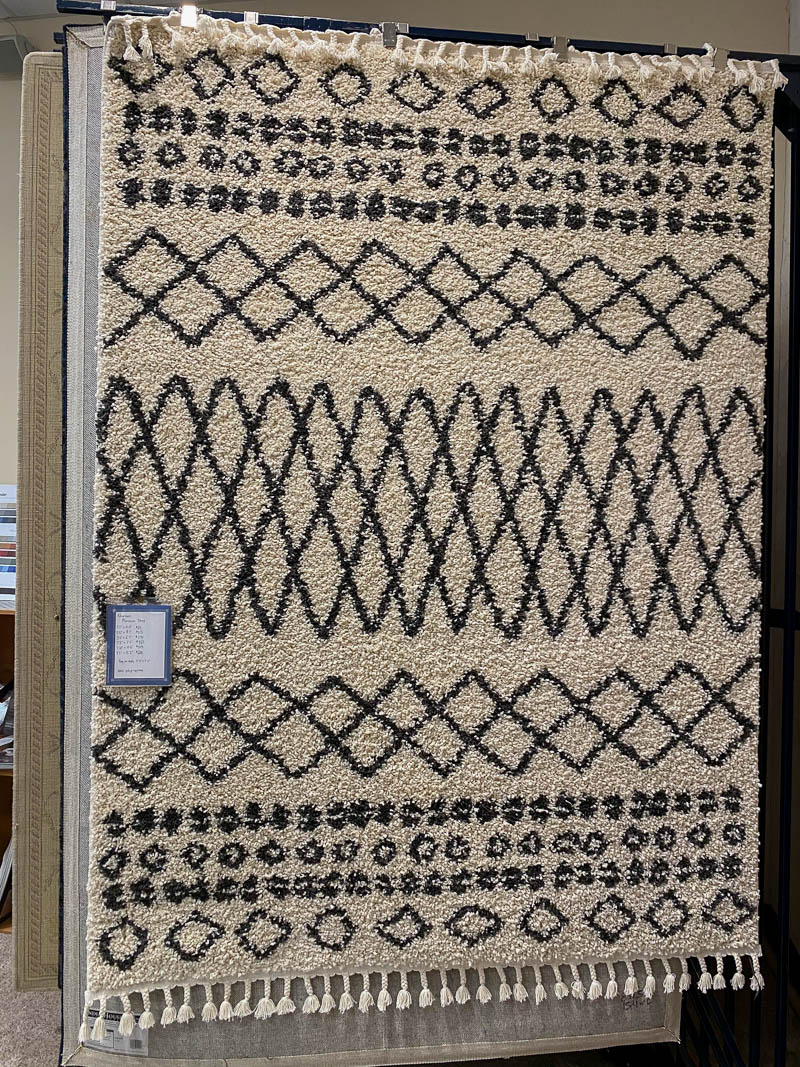 Bottom rug: Karavia Indoor/Outdoor 5'3"x7'6" $135 great for layering
available in many sizes
Top rug: Malta Collection MAI01 Ivory/Blue 3'11"x5'7" $225 (this one is SOLD)
avilable in other sizes as well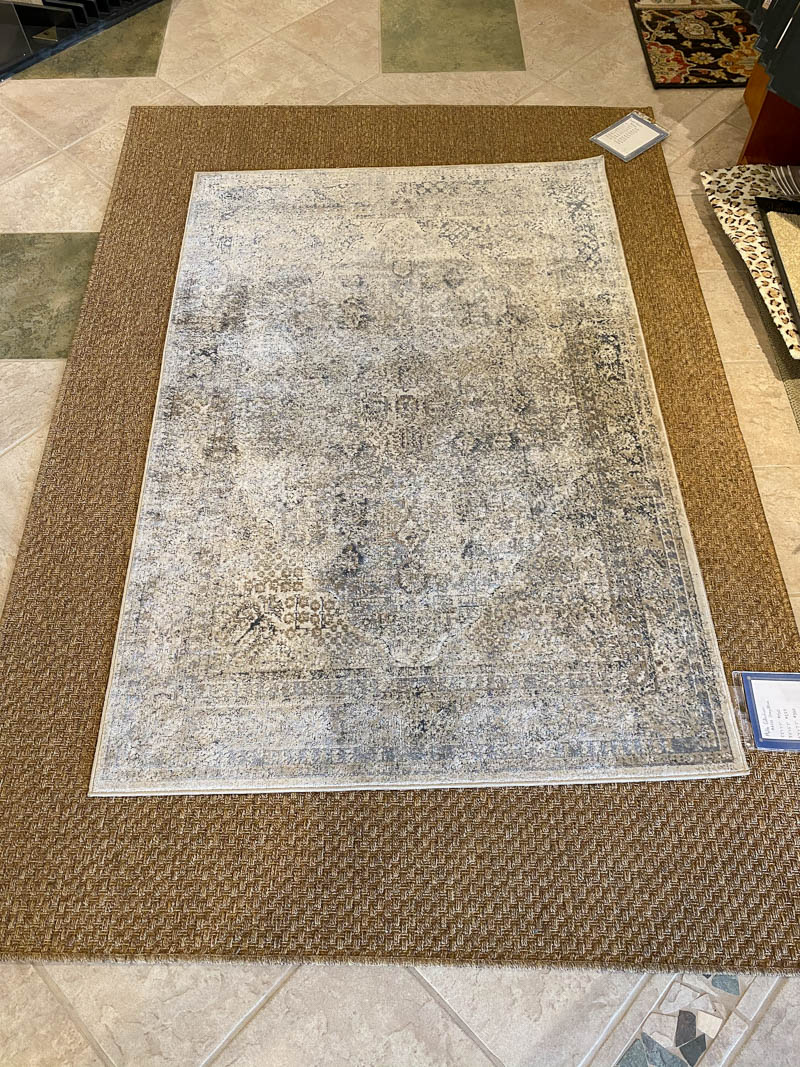 Latitude 1'10" x 7'6" Indoor/Outdoor runner - $57.50 Available in many more sizes.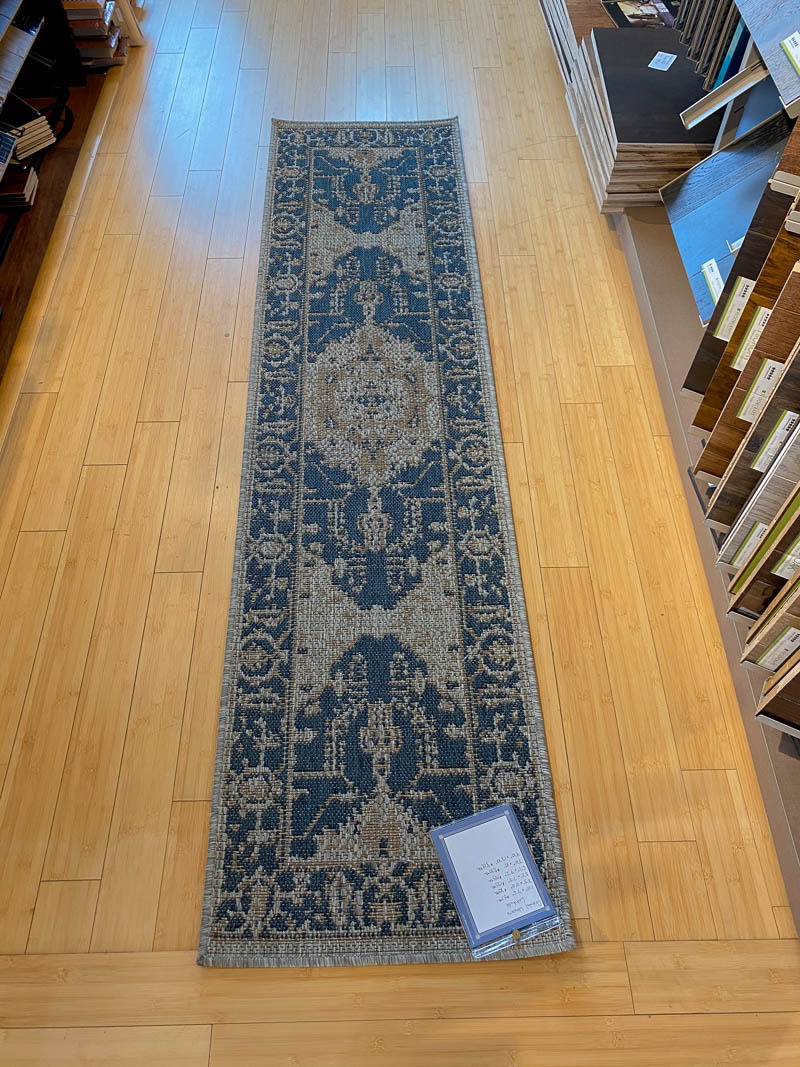 Novogratz doormat by Momeni - Coir with PVC backing 1'6"x2'6" - $32 $27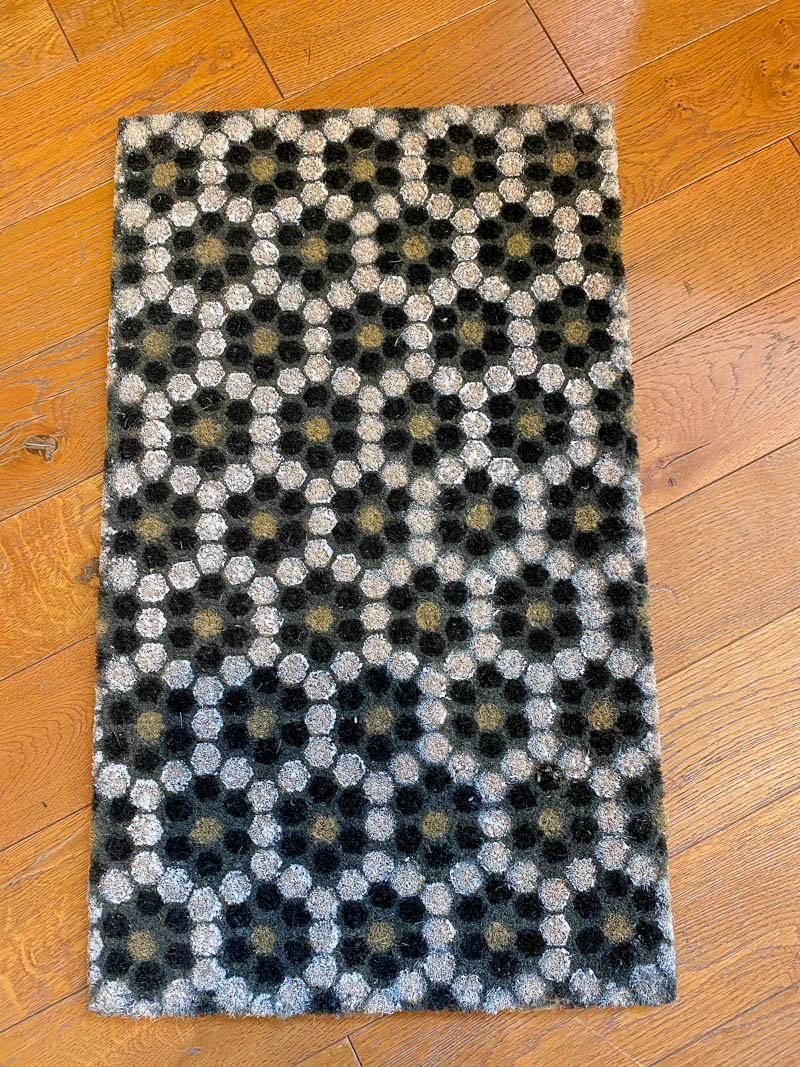 Braided rug 2'x3' - $47 $25 $19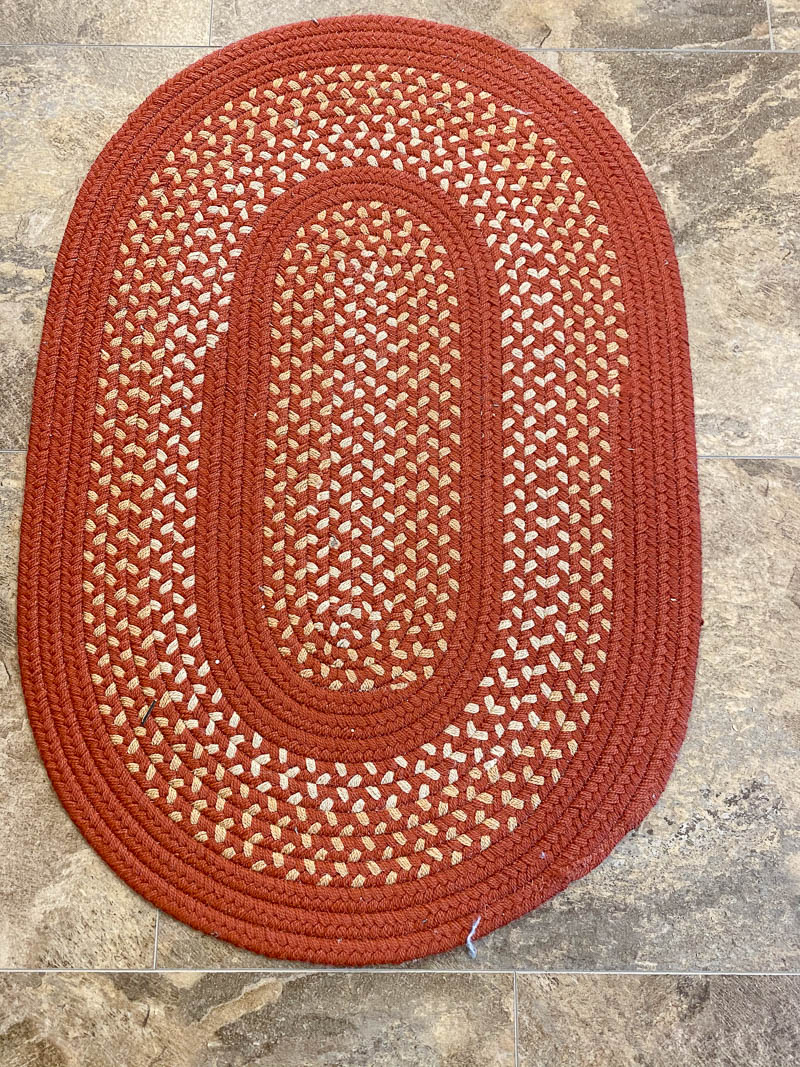 We proudly serve homeowners in the communities of Swansea, IL and Belleville, Fairview Heights, O'Fallon, Shiloh, Mascoutah, Scott Air Force Base, Freeburg, Millstadt, Caseyville, Collinsville, Maryville, Glen Carbon, Smithton, Waterloo, and the surrounding Metro East community.