Vinyl Flooring in Belleville, IL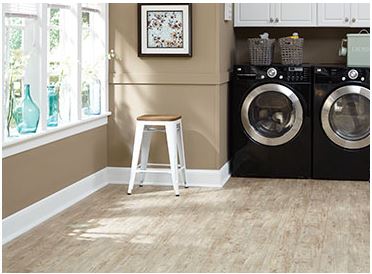 Vinyl is a unique flooring option that offers homeowners a stress-free living experience. It resists most scuffs and scrapes, and your children or pets will find it difficult to stain its surface. Talk with a flooring specialist from our shop to learn why vinyl could be the material you need, and read on to find out more about different kinds of vinyl products. Are you searching for a stylish and durable floor that is easy to maintain? Our collection of vinyl flooring offers materials that are durable and able to withstand heavy foot traffic. We offer vinyl tile and vinyl plank flooring that is easy underfoot and helps to reduce the noise in an active household. Come by today to peruse our stylish collection of cost-effective vinyl sheet flooring. Our flooring specialists are happy to guide you every step of the way—from selection to vinyl flooring installation.
Vinyl Sheet Flooring: Easy-to-install this product is the perfect choice for homeowners searching for a durable material on a budget. Vinyl sheet comes in rolls, making it easy for our contractors to measure, cut, and install seamless pieces in any room in your home. Once your vinyl sheet flooring is down, it's virtually waterproof; there's nowhere for moisture to get in.
Vinyl Tile Flooring: This flooring option is a popular choice for many families that prefer a high-end look without the cost in their homes. Vinyl tile flooring is available in many styles that mimic the texture of stone, including marble, slate, and other popular varieties. Vinyl tile looks good in any room in your home; however, we recommend it for kitchens and bathrooms where its waterproofing capabilities will shine most.
Vinyl Plank Flooring: If you love the look and feel of hardwood, but not the price tag, vinyl plank flooring is the perfect compromise. Vinyl plank imitates the appearance and texture of true hardwood; however, it never needs polishing or refinishing. And, this flooring is moisture, stain, and scratch resistant. Enjoy the natural beauty of hardwood without any of the upkeep.
Let Us Handle Vinyl Flooring Installation
Once you and your family have settled on a vinyl product that suits your budget and your tastes, consider carefully how you want your purchase installed. Adding new flooring can be a tricky and time-consuming process, and without the proper tools and experience, it can be difficult to know where to begin. Thankfully, our flooring store offers professional vinyl flooring installation services to every client that shops with us.
Let our skilled installation crew ensure your new vinyl floors look and perform according to our very high standards. We understand that your home is one of your greatest assets - that's why we treat it with the respect and care it deserves. You can rest easy knowing our contractors work carefully while they install your vinyl product in your kitchen, bathroom, or anywhere else. Protect your investment for many years to come with an installation by our skilled and experienced installation crew.

Contact our vinyl flooring specialists to learn which of our products is right for your home. We proudly serve the communities of Swansea, Belleville, Fairview Heights, Waterloo, and Scott Air Force Base in Illinois, plus the surrounding areas.