Laminate Flooring in Belleville, IL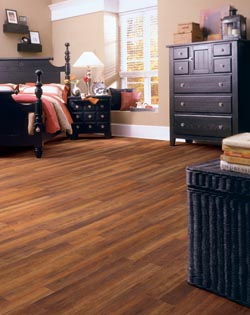 After years of wear and tear, your floors simply don't look like they used to. If you're tired of this outdated surface affecting the value and appeal of your home, then add flooring replacement to your list of home improvement projects. When you're finally ready to invest in the floors of your dreams, we can help.
Our local store and showroom offers one of the area's largest selections of luxury flooring, including stylish and durable laminate tile and laminate wood flooring. Featuring lines and collections at different price points, you are sure to find something among this inventory that fits within your budget. As one of the most attractive and affordable floor fashions now on the market, this flooring is becoming increasingly popular among property owners in our community. With an ease of maintenance and stunning appearance, you may find that laminate truly suits your flooring needs.
Get the Look of Luxury With Our Laminate Options
Shopping for new flooring may seem a bit daunting. This is why we offer an in-store experience that is easy and enjoyable. By taking the time to understand your expectations in appearance, performance, and price, we are able to point you toward the types of flooring best suited to your home. For many clients, versatile laminate tiles are an ideal option for a single room, or even the entire home.
Laminate tiles from are collections have been designed to mimic the look and feel of more high-end materials. While laminate is able to perfectly replicate natural stone and exquisite granite, it remains more resilient than many of its counterparts. Choosing laminate means you don't have to sacrifice the flooring style you desire for the durability your household demands.
Traditional hardwood remains a great surface solution for a number of spaces, yet it is not ideal investment for every client we encounter. Whether you are worried about pet accidents or are concerned about heavy foot traffic, these floors continue to hold up well in any environment far into the future.
The unique fabrication of laminate products means that they are also a wise choice for wet areas, such as the kitchen or bathroom. Laminate wood doesn't warp or swell from high amounts of moisture. Once in place, you'll spend less time worrying about maintenance and more time enjoying the things that matter. Visit our showroom or browse our selection online to get your flooring project started. With a wide range of options from well-known brands like Mannington, Floorcraft, Mohawk, and Shaw, we are confident you'll find a style you love that's well within your budget.
One of the biggest benefits of laminate flooring is its design versatility. If you haven't shopped for floors in more than a decade, you may be surprised at what you see in our store. That's because over the past few years, manufacturing methods have gotten much more advanced, which means laminate has become stronger and more beautiful than ever before. We have a broad array of laminate options available in a variety of hues and textures. We also carry laminate wood floors that look and feel just like the real thing.
Also Offering Laminate Flooring Installation Services
Once you make a confident purchase from our selection, it's time to schedule installation. We maintain a team of technicians capable of completing your new floors in a timely manner. Using the most trusted techniques and tools, we guarantee a flawless job every time.
In fact, we are so confident in the service provided by our installers that we support their work with an impressive warranty and guarantee system. One such guarantee is our Lifetime Installation Guarantee. This states that if you ever have any installation-related issues with your new floors, we'll fix it at no cost to you.
When you stop into our showroom, you're treated with the respect and professionalism you deserve. Our goal is to help make your flooring renovations as easy as possible and to ensure that you're completely satisfied with the results.
The first thing we do is talk to you about your goals, expectations, and budget. Getting this information allows us to narrow down our vast inventory to just the products that match your needs. Our knowledgeable sales team is always nearby to answer any questions you have about certain products and brands, or to provide inspiration if you don't know exactly what type of floors you want in your home.
After you have a few options picked out, our in-store design professionals give you a clearer picture about what your new floors will look like in your living space. Whether you want to put laminate wood flooring in the bathroom or laminate tile throughout your whole home, taking advantage of our design services can ensure you're confident about your purchase decision before you buy.
All of our services are aimed at getting you the floors that match your style and meet your practical needs. And when you purchase a 4- or 5-Star-rated product from us, you qualify for our Confidence Plus Warranty. This is just one more way we guarantee your satisfaction. With this warranty, you can choose one of our qualifying laminate products and rest easy knowing that if you aren't completely satisfied with your floors within 30 days of purchase, we replace them free of charge.

Do you think laminate flooring may be the right choice for your home? Contact us using the convenient on-page form, or by calling to learn more about our impressive selection of laminate tile and wood. We proudly serve Belleville, Fairview Heights, Waterloo, SAFB, and O'Fallon, Illinois, as well as the surrounding areas.